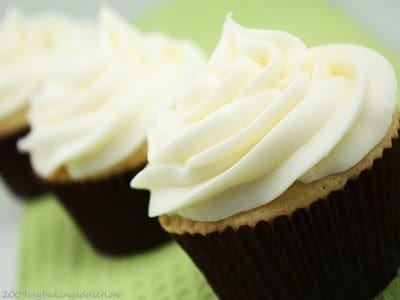 I have a mild obsession with cupcakes…I love to bake them and I am always searching for new flavor combinations to experiment with. I had Monday off of work so I went into my kitchen and tried my hand at creating a cinnamon swirl cupcake. Originally I was going to use Dorie Greenspan's recipe for the Perfect Party Cake, but I was feeling a little daring, so I decided to step outside my culinary comfort zone and try a new recipe for the first time. I opted for a yellow cake recipe from the Culinary Institute of America. This recipe is printed in the fantastic book, Baking at Home with the Culinary Institute of America. Although I have had this book in my possession for months, I have only cracked it open a handful of times. I love cookbooks, but I find myself inclined to turn to the web for recipes more than cookbooks. I think the main reason I browse the web for recipes is that I love to read reviews and sometimes find myself completely enamored with them. I am also a very visual person and like to see photos of recipes before I bake them. In my opinion, most cookbooks do not include enough photographs and that can often be the deal breaker when I am looking to make a purchase.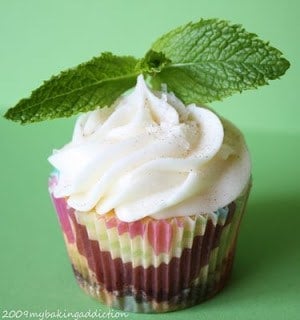 Okay enough of my cookbook ramblings and back to these Cinnamon Swirl Cupcakes. I am going to keep this simple…make these cupcakes…they are amazing!!!!!!!! Scroll all the way down for the cupcake method.
Yellow Butter Cake from Culinary Institute of America
Ingredients
3 ½ c cake flour
2 c sugar
1 Tbsp baking powder
½ tsp salt
1 c (2 sticks) butter, unsalted, diced, at room temperature
1 c whole or low-fat milk (divided use)
4 large eggs
2 large egg whites
2 tsp vanilla extract
Method
Preheat the oven to 350F. Coat two 8" cake pans lightly with cooking spray
Sift the flour, sugar, baking powder and salt into the bowl of a stand mixer fitted with the whisk attachment or a large mixing bowl. Add the butter and ½ cup of the milk. Mix on medium speed until smooth, about 4 minutes, scraping down the bowl with a rubber spatula as needed.
In a separate bowl, blend the eggs, egg whites, the remaining ½ cup milk and the vanilla extract. Add to the batter in 3 additions, mixing for 2 minutes on medium speed after each addition. Scrape down the bowl between additions.
Divide the batter evenly between the two pans. Bake until the layers spring back when touched lightly in the center, 35-40 minutes.
Remove the layers from the oven and cool completely in their pans on wire racks. Release the sides and bottom of the layers from the pans with a narrow metal spatula or a table knife before unmolding and finishing with fillings and icings.
Filling
3 tablespoons granulated sugar
3 tablespoons light brown sugar
1 1/2 teaspoons cinnamon
1 teaspoon cocoa powder
Method
Mix all ingredients together in a small bowl and set aside.
Icing
2 (8) ounce package cream cheese, softened
1 stick butter, softened
2 lbs. confectioners' sugar
2 teaspoons vanilla extract
Method
Using a mixer, blend all of the ingredients together until smooth and creamy. Spread cream between layers and on top of cake.
Cupcake Method
(Note-I am anal and these are exact measurements, I am sure winging the proportions will be just fine!)
1. Place muffin liners into a muffin tin. (I then spray lightly with non-stick cooking spray).
2. Place 1 ½ TBS of cake batter into the muffin liners.
3. Sprinkle ½ teaspoon of filling onto the cake batter that was placed in step 2.
4. Place 1 ½ TBS cake batter over the filling; smooth the surface with the back of a spoon.
5. Drag a toothpick through the filled muffin liners to distribute the cinnamon filling.
6. Bake at 350°F for 18-20.
7. Cool completely and pipe on icing.
8. Sprinkle the icing cupcakes with coarse sugar and cinnamon if desired.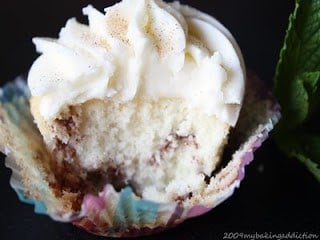 Note- This recipe made 30 cupcakes; you may have filling left over so do not panic.