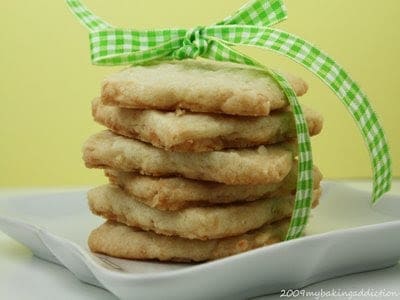 This week's recipe for Coconut Butter Thins was chosen by Jayne of The Barefoot Kitchen Witch. The ingredients for these cookies scream summer being comprised of lime zest, coconut and macadamia nuts. We had snow here in Ohio on Sunday, so I am not really stocked up with warm weather kitchen essentials. Instead of running to the market, I improvised using the items I had in my pantry and the flavor of these cookies was still divine! I subbed out the macadamia nuts for almonds, the lime for lemon and the coriander for…nothing.
If any of you know me at all, you know that I can be a tad bit obsessive compulsive so these cookies became my nemesis when I discovered how much they spread in the oven. Ya see, I wanted perfectly square cookies, but my first batch left me with blob like shapes…this irked me so I decided to change the cooking method. For my second batch I put the cut cookies in the freezer and my baking sheet in the fridge for 45 minutes, I also decreased the cooking temperature to 315 degrees. This time the cookies did not spread as much, but still expanded a bit! I headed over and read the P&Q thread in its entirety and realized this was a common problem expressed by several TwD members. Eventually I surrendered to the spread and just finished baking the 1/2 recipe that I made. These are really tasty cookies and would blend harmoniously with a mug of hot tea…which would be perfect for this chilly Ohio weather.
Are you curious if all TwD had the spreading problem? If so, check out the TwD blogroll and get clicking to find out! For the recipe head on over to Jayne's blog or flip to page 145 in Baking: From My Home to Yours!