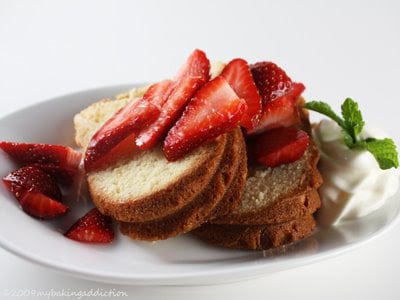 As all of you know, baking supplies/ingredients hit super low prices during the holidays. This can make people like me go a tad bit crazy and a tad bit overboard. Now seriously…can someone explain my compulsive behavior that led to a gazillion cans of evaporated milk, shredded coconut out the wazoo and enough pumpkin to feed to small country pumpkin pie for a month? I think I may need to seek professional help! Since my cupboards are busting open, I have decided to start making recipes that use these ingredients in an attempt to clear out the unsightly mess in my pantry and cupboards.

First up is a recipe for Coconut Cream Pound Cake that I adapted from allrecipes. I discovered that this recipe makes one killer strawberry shortcake. It has a super crunchy external layer that pairs perfectly with the moist, dense center. Top it with some fresh fruit and whipped cream…you end up with a Coconut Cream Dream!

Ingredients
1 cup butter, softened
1 (8 ounce) package cream cheese, softened
2 2/3 cups white sugar
6 eggs
2 teaspoons coconut extract
1/2 teaspoon of vanilla
3 cups all-purpose flour
1/2 teaspoon baking powder
2 cups flaked coconut-pulsed in a food processor
*fresh fruit and whipped cream (optional)

Directions
1. Preheat the oven to 325 degrees F (165 degrees C). Grease and flour a 10 inch tube pan.
2. In a large bowl, cream together the butter and cream cheese until well blended.
3. Add sugar, and beat until light and fluffy (about 5 minutes).
4. Blend in the eggs one at a time, then stir in the extracts.
5. Mix in flour and baking powder until just moistened, then stir in coconut.
6. Spoon batter into the prepared pan.
7. Bake for 1 hour and 30 minutes in the preheated oven, or until a knife inserted into the cake comes out clean. Allow the cake to cool in the pan for 10 minutes before inverting onto a cooling rack.
8. Top with fresh fruit and whipped cream.

Note: This cake is definitely a pound cake, I would not advise making this as a party cake; it is far too dense.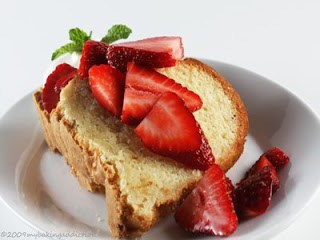 Up Next…A Baker's Dream Company and A Valentine's Day Giveaway