I'm back from St. Lucia and trying to adjust to life in the real world. Ya know – waking up to an alarm clock, cooking for myself, and not having access to copious amounts of piña coladas. As I'm slowly coming out of an island-induced haze, I find myself craving Caribbean flavors like jerk chicken, mahi-mahi and, of course – coconut.
Being a Keurig Ambassador definitely has its perks, like a sneak peek of the newest addition to the line: The Original Donut Shop Coconut Mocha. This decadent K-Cup pack has the taste of a rich chocolate donut, topped with flaky coconut, and dipped into your favorite mug.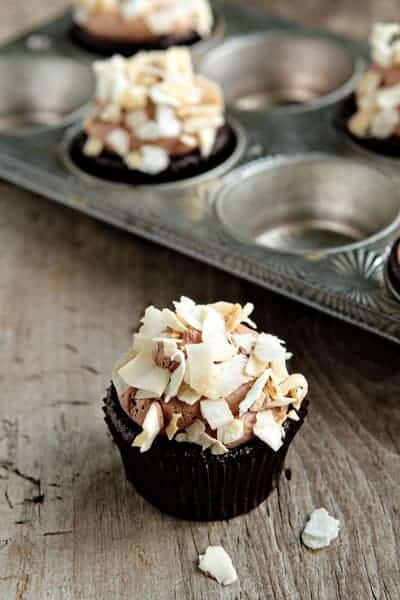 As soon the Coconut Mocha K-Cup packs arrived on my doorstep, I knew this fun new flavor would make its way into a cupcake recipe. I started out with my favorite from scratch recipe for chocolate cake – which just so happens to call for an entire cup of freshly brewed coffee. Add on a swirl of mocha buttercream and a sprinkling of toasted, shaved coconut, and you have got one delicious dessert.
These cupcakes are not only rich and decadent, but after one bite, I was back in St. Lucia sipping piña coladas by the pool – even if it was only for a nanosecond.
Still, I'm glad to be back home, hanging with you guys.
The Original Donut Shop Coconut Mocha flavor is available in major retailers such as Macy's, WalMart, Belk, Bed Bath & Beyond, and Amazon.
Stay tuned tomorrow for a chance to win a Keurig® Single Cup Brewer!
[pinit]

Coconut-Mocha Cupcakes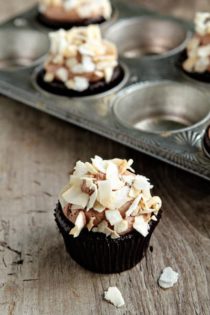 Ingredients:
For the Cupcakes
1 3/4 cups all-purpose flour
2 cups sugar
3/4 cups unsweetened cocoa powder
2 teaspoons baking soda
1 teaspoon baking powder
1 teaspoon kosher salt
1 cup buttermilk, shaken
1/2 cup vegetable oil
2 eggs, at room temperature
1 teaspoon pure vanilla extract
1 cup freshly brewed hot coffee
For the Mocha Buttercream
4 sticks (2 cups) unsalted butter, room temperature
2 teaspoons pure vanilla extract
1/8 teaspoon fine sea salt
2/3 cup unsweetened cocoa powder
5 cups confectioners' sugar (powdered sugar)
3-5 tablespoons cold coffee
For the Garnish
1 1/2 cups coconut, lightly toasted (see recipe notes below)
Directions:
For the Cupcakes
1. Preheat the oven to 350 degrees F. Line muffin tins with paper liners or spray with nonstick cooking spray.
2. Sift the flour, sugar, cocoa, baking soda, baking powder, and salt into the bowl of an electric mixer fitted with a paddle attachment and mix on low speed until combined.
3. In another bowl, combine the buttermilk, oil, eggs, and vanilla. With the mixer on low speed, slowly add the wet ingredients to the dry. With mixer still on low, add in the coffee and mix until just combined, scraping the bottom of the bowl with a rubber spatula. The batter will be thin.
4. Using a large scoop (about 3 tablespoons), distribute the batter into the prepared muffin tins -filling about 2/3 of the way full.
5. Bake for 18-22 minutes, or until a cake tester comes out clean. Cool in the pans for 15 minutes, then remove them onto a cooling rack and cool completely.
For the Mocha Buttercream
1. In the bowl of a stand mixer fitted with the paddle attachment, beat butter, vanilla, and salt on medium speed until creamy.
2. In a large bowl, sift together the cocoa powder and confectioners' sugar.
3. Gradually add the dry ingredients to the butter and mix at low speed until fully incorporated. Scrape down the sides of the bowl as needed.
4. Once all of the dry ingredients have been incorporated, add in 3 tablespoons of cold coffee. Turn the mixer up to medium speed and beat the buttercream for about 5 minutes, scraping down the sides of the bowl as needed. If you want your frosting a little thinner, gradually add in more coffee, 1 teaspoon at a time until you reach the desired consistency.
5. Frost your cooled cupcakes and garnish with toasted shaved coconut.
Notes:
- I used The Original Donut Shop Coconut Mocha coffee in this recipe.
- To Toast Coconut: Preheat oven to 350 F. Spread shredded, flaked, or shaved coconut on a rimmed baking sheet. Bake in preheated oven, stirring often, until golden brown - about 5 to 10 minutes.
My Baking Addiction: Cupcakes adapted from Ina Garten.
All images and text ©
Follow Jamie on Instagram. We love to see what you're baking from MBA! Be sure to tag @jamiemba and use the hashtag #mbarecipes!