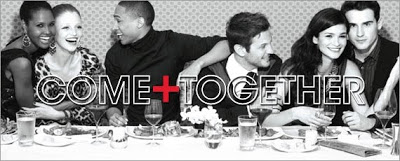 I was contacted and asked to blog about the Macy's Come Together Campaign in an effort to spread the word. COME TOGETHER is an innovative awareness and fundraising campaign that aims to feed 10 million people suffering from hunger. COME TOGETHER invites the public to rally around the cause by hosting special dinners in their homes and asking their guests to pledge a donation to Feeding America. In return, Macy's will match these donations dollar-for-dollar until the total goal of 10 million meals is reached.
Get Involved!
To get involved the public may participate in three ways Host, Give and Shop. My donation has already been made…I hope you do the same, every $1 helps!
HOST– Friends and families across the country can host dinner parties from casual to formal, send invitations and manage party details including themes and recipes on www.macys.com/cometogether. In lieu of bringing traditional host gifts, guests are suggested to make a donation to Feeding America.
GIVE – Donate $1 directly at any Macy's register, one dollar provides dinner for seven.
SHOP – Macy's customers can shop for the cause and get special savings in-store on October 17, when Macy's hosts a national Shop For A Cause day. A portion of the $5 in-store ticket sales will benefit Feeding America.
Now about the giveaway…
For a chance to win one of two $25 Macy's Gift Cards, leave a comment in this post answering this question…

If you could invite any 4 people to dinner who would they be and why?

The Rules
1.) Open to USA residents only.
2.) Two winners will be chosen on 9/30/09 by using random.org.
3.) Make sure that I have a way to contact you when you leave a comment; either through your blog or an email.
4.) One comment per person, please. Plus one *tweet entry; totaling 2 entries per person. Tweet about the giveaway…you MUST use @bakingaddiction in the tweet for it to qualify! After the tweet, post another comment about the tweet in this post.
5.) I will contact the winners via email or commenting on the winner's site.
6.) You have until 10/2/09 to claim the giveaway, or I will have to choose another winner.
Fine Print…I was contacted by M80 on behalf of Macy's to hold this giveaway.
Thanks for reading and please remember to donate to this great cause! Have a beautiful weekend!