Through the month of December I plan on providing a variety of helpful hints and ideas for not only easing the stress of your holiday baking, but giving you some helpful suggestions on how to make this a time to enjoy.
Included in the Holiday Baking Tips section of My Baking Addiction, I mentioned hosting a cookie exchange as an idea for some holiday fun. A cookie exchange party basically entails several of your closest baking buddies gathering together and exchanging some homemade holiday treats.
This is an excellent way to gather some of your favorite people for cocktails and great food and save some time on your baking schedule. Below I have provided some helpful tips to make a sweet and successful cookie exchange party that everyone will enjoy.
The Invites
Much like any party that you host, you need to start you planning process, starting with your list of guests. A good rule of thumb is to invite no more than 8 to 10 people because every guest is asked to bring a dozen holiday treats per person, plus an additional dozen for sampling. Because this is becoming such a popular holiday tradition, invitations can be found on some favorite sites such as Etsy. I am just smitten with this invite from PartyPrinters on Etsy. To save some time and money, you can also email invites for your exchange. Make sure you request an RSVP so you know what everyone is going to make. We don't want any duplicates!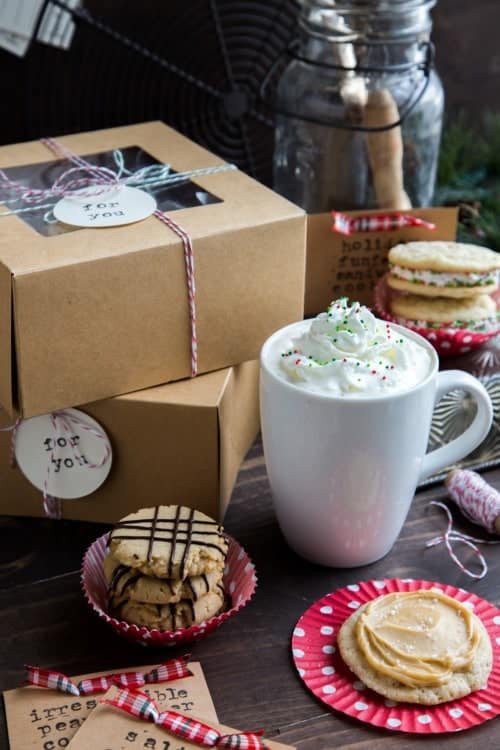 The Recipe
Once the invitations have gone out, it's time to start thinking about what recipe you are going to share. It's always a good idea to make something that is not too delicate and that will store well when packaged up.
The Display
As the party approaches, you should start creating display cards to set up in front of each of the baked goods that will be sampled and who provided them. It's also important to clearly label items that contain common food allergy ingredients such as nuts – be sure to label the specific varieties such as walnuts, peanuts, etc. Make sure each of your guests bring out a printed recipe for their baked good so they can be passed amongst your guests.
The Packaging
Having a packaging station is also something that should be considered. As the host, you can always provide some decorating materials so guests can package gift boxes with all the holiday trimmings. Some things to include may be small gift boxes, tags, ribbon, string, and small packaging trinkets. Encourage each of your guests to donate some items for your packaging station to save on some of the cost and provide a little more variety. It's also a great idea to hit up the holiday aisles of Target the days following Christmas. You'll find huge discounts on adorable items that you can pack up until next year.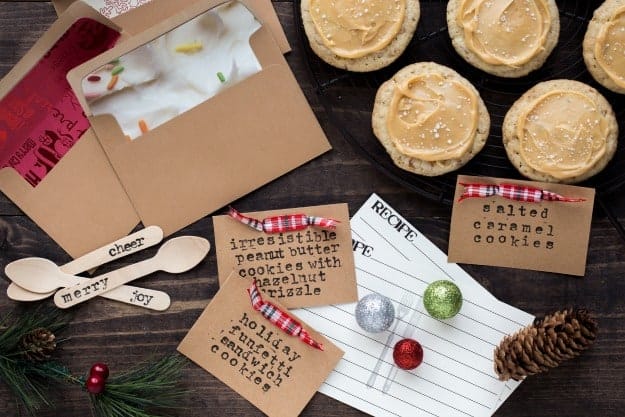 The Snacks
Serving some light hors d'oeuvres and festive beverages is always suggested. This may include egg nog, hot apple cider, and/ or coffee and tea. As much as we love our sweets, guests tend to crave "real" food and of course need a good palette cleansing between treats.
The Activities
Having door prizes for your guests can always be a nice addition to your cookie exchange as well. Making some jars with a favorite cookie or brownie mix is always an option or pairing your party with a White Elephant gift exchange can put a little spice in your gathering.
As we all know this can be a very busy and stressful time of year. Including some fun activities where friends and family can get together creates life-long memories and can possibly start some awesome and time-saving traditions to continue through future holidays.
Photos in collaboration with Emily Caruso of Jelly Toast.