Cookie Sticks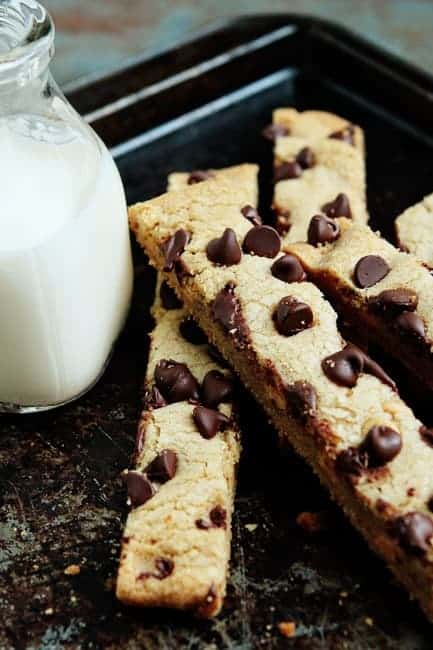 I kind of love that My Baking Addiction has sparked a bit of a baking addiction in my own mom. Growing up, Mom was one heck of a cook. But because the rest of us are neurotic with food, Mom spent all her time dealing with our food issues instead of baking for pleasure. (I'm not kidding. When it comes to vegetables, my brother Jared will only eat broccoli. Ever. And it has to be covered in Cheez Wiz or ranch dressing.)
Now that she doesn't have to deal with all our crazy on a daily basis, she can actually bake what she wants, and even has a well-stocked baker's shelf full of specialty pans, cute cupcake liners, and cookie scoops.
I really dig that we get to bond over recipes she comes across in magazines and cookbooks, too. Earlier this week, she texted me a photo of Cookie Sticks from her new Taste of Home cookbook. The recipe looked nice and easy, and the creative shape immediately drew me in.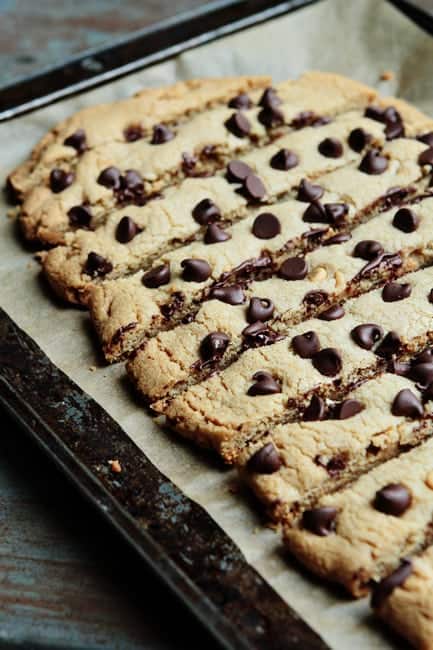 You know I can't leave well enough alone, so I tweaked the recipe, adding in peanut butter and peanut butter chips to an already delicious base recipe. And then my ADD got the best of me while I was multitasking – at least that's what I like to call it.
I sort of skimmed the method for shaping the sticks and ended up forming one large cookie log as opposed to the recommended two smaller – more manageable logs. This meant a longer baking time and some pretty serious Cookie Sticks.
I'm pretty sure this fun, creative spin on a typical chocolate chip cookie might just be the perfect after school snack. And let's be honest, dunking a Cookie Stick in a tall glass of milk is always going to go better than dunking a boring round cookie.
[pinit]

Cookie Sticks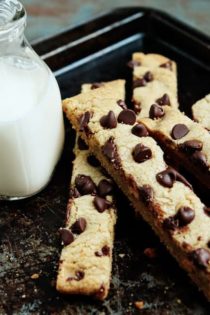 Ingredients:
1/2 cup canola oil
1/4 cup creamy peanut butter
1/2 cup granulated sugar
1/2 cup packed light brown sugar
1 large egg
1 teaspoon pure vanilla extract
1-1/2 cups Gold Medal all-purpose flour
1/2 teaspoon baking soda
1/2 teaspoon salt
1/2 cup peanut butter chips
1 cup semisweet chocolate chips
Directions:
1. Preheat oven to 375° F. Line a baking sheet with parchment paper.
2. In a large bowl, combine the oil, peanut butter, sugars, egg and vanilla. In another bowl, combine the flour, baking soda and salt. Gradually add the dry ingredients to the sugar mixture and mix until well combined. Fold in the peanut butter chips and divide dough in half.
3. On the prepared baking sheet, shape each portion into a 15-in. x 3-in. rectangle about 3 in. apart. Sprinkle with chocolate chips; pressing them lightly into the dough.
4. Bake in preheated oven for 6-7 minutes. (Bake for 8-9 minutes for crispier cookies.) Cool for about 10 minutes. Cut with a serrated knife into 1-in. strips; remove to wire racks to cool completely.
My Baking Addiction adapted from Taste of Home
All images and text ©
Follow Jamie on Instagram. We love to see what you're baking from MBA! Be sure to tag @jamiemba and use the hashtag #mbarecipes!
This post may contain affiliate links. We are a participant in the Amazon Services LLC Associates Program, an affiliate advertising program designed to provide a means for us to earn fees by linking to Amazon.com and affiliated sites.