Cowboy Cookies…Yee Haw!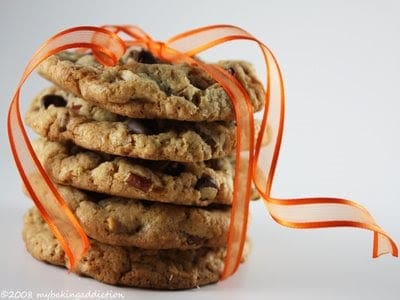 With my ample supply of nuts from Oh Nuts, I had a hankering to bake some cookies. I turned to Martha Stewart's website and decided on her recipe for Cowboy Cookies. This recipe packs the flavors of oatmeal, pecans, chocolate and coconut all in one cookie. I did trade out half the butter for butter flavored Crisco and also threw in some dried cranberries for the heck of it! The recipe says it yields 5 dozen cookies, but I am a big cookie lover, so I only got 3 dozen. I loved the texture of these cookies, the sweet coconut paired with the crunch of the nuts and chewiness of the cranberries was perfect! I ate one and sent the rest to the boyfriend's workplace where they were gobbled up in no time! Laura Bush also has a recipe for Cowboy Cookies, the only difference I can see in regards to the ingredients is that Bush's recipe calls for cinnamon. So, if you're looking for a delicious cookie with a lot of texture, give these a try…they will make your day a little more delicious!!!
Cowboy Cookies
Adapted from marthastewart.com
Ingredients
Vegetable oil cooking spray
2 cups all-purpose flour
1 teaspoon baking soda
1 teaspoon salt
1/2 teaspoon baking powder
1 stick unsalted butter, softened
1/2 cup butter flavored Crisco
3/4 cup granulated sugar
3/4 cup light-brown sugar
2 large eggs
1 teaspoon pure vanilla extract
1 1/2 cups old-fashioned oats
6 ounces semisweet chocolate, cut into 1/4-inch chunks (1 cup)
3 ounces (3/4 cup) pecan halves
1/2 cup shredded unsweetened coconut
3/4 cup dried cranberries
Directions
1. Preheat oven to 350 degrees. Coat baking sheets with cooking spray, line with parchment, and spray parchment. Sift flour, baking soda, salt, and baking powder into a medium bowl.
2. Beat butter and sugars with a mixer on medium-high until pale and creamy, about 3 minutes. Reduce speed to medium. Add eggs, 1 at a time, beating well after each addition. Beat in vanilla.
3. Reduce speed to low, and slowly add flour mixture, beating until just incorporated. Beat in oats, chocolate, pecans, and coconut until combined. (Dough can be refrigerated for up to 3 days.) 4. Using a 1 1/2-inch ice cream scoop or a small spoon, drop dough onto baking sheets, spacing 3 inches apart.
5. Bake until edges of cookies begin to brown, 11 to 13 minutes. Transfer baking sheets to wire rack, and let cool for 5 minutes. Transfer cookies to racks. Let cool. (Cookies can be stored up to 3 days.)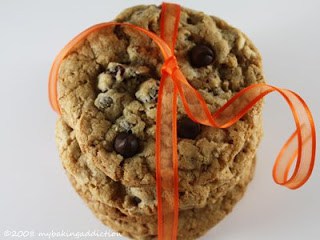 This post may contain affiliate links. We are a participant in the Amazon Services LLC Associates Program, an affiliate advertising program designed to provide a means for us to earn fees by linking to Amazon.com and affiliated sites.