Croque Monsieur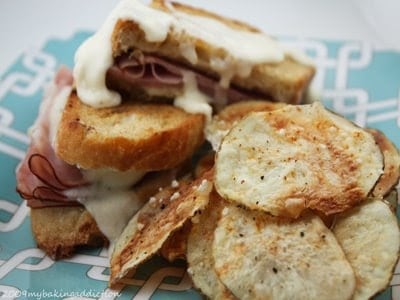 This week's Barefoot Bloggers recipe for Croque Monsieur was chosen by Kathy of All Food Considered. I was pretty excited about this recipe because I love ham and I really love cheese. This was totally a weekday recipe and was prepared with ease. I used thick sliced French bread with thin sliced honey ham. Instead of Dijon mustard I opted for honey mustard and I also changed the toasting method. Although Ina crisps her bread in the oven, I decided to do this step in skillet, like you would a grilled cheese sandwich. I wanted that crunchy, buttery flavor and texture because I thought it would compliment the flavors of the ham and cheese sauce. Well, I was right…this sandwich was amazing and paired well with the homemade potato chips I made as an accompaniment. This sandwich would also be delectable with a bowl of soup or a crisp salad.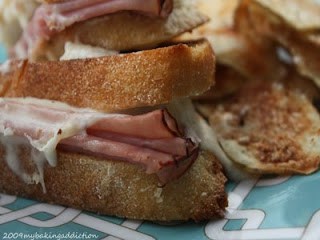 This recipe can be found by clicking here or opening to page 48 in Barefoot in Paris.
This post may contain affiliate links. We are a participant in the Amazon Services LLC Associates Program, an affiliate advertising program designed to provide a means for us to earn fees by linking to Amazon.com and affiliated sites.