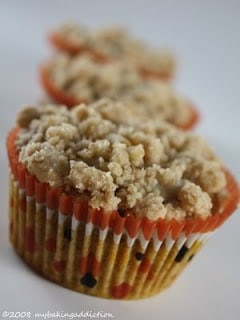 Yes, I said pumpkin…AGAIN! I told you guys that once the calendar hits October I develop a fierce addiction to pumpkin. Some of you may not be aware that I contribute to the Well Fed Network's, Just Baking Site…I post there a couple of times a month and browse it on a daily basis. The other day I came across a photo of a muffin that made my mouth water and the description made me drool a little…okay not really, but they sounded amazing! These muffins were from a lovely baker named, Rachelle, you can check out her blog by clicking here. She rolled three recipes into one and created an amazing concoction of Crumb Topped Pumpkin Cream Cheese Muffins. As she stated the Just Baking site, the flavor is quite reminiscent of pumpkin roll. I made mine small enough so both the boyfriend and I could take some to work. These were super easy and tasted delicious!
Crumb Topped Pumpkin Cream Cheese Muffins from Rachelle's Blog
Muffins
3 cups flour
1 tsp cinnamon
1 tsp nutmeg
1 tsp ground cloves
4 tsp pumpkin pie spice
Pinch of cardamom (I left this out, I did not have any)
1 tsp salt
1 tsp soda
4 eggs
2 cups sugar
2 cups cooked or canned pumpkin
1 ¼ cups vegetable oil
Cream Cheese Filling
6 ounces cream cheese, softened
2 Tablespoons sugar
2 Tablespoons milk
1 teaspoon vanilla extract
Crumb Topping
1 cup all-purpose flour
3 tablespoons light brown sugar
2 tablespoons granulated sugar
1 teaspoon baking powder
Pinch of salt
6 tablespoons unsalted butter, melted
Preheat oven to 350. To make the cream cheese filling, beat cream cheese, sugar, milk, and vanilla until smooth. Set aside.
Make the crumb topping: In a medium bowl, combine the flour with the brown sugar, granulated sugar, baking powder, and salt. Stir in the melted butter, then pinch the mixture until it forms pea-size clumps. Set aside.
Mix muffin ingredients together except cream cheese filling. Fill muffin tins (greased or paper cups) 3/4 full. Put 1-2 tsp cream cheese filling in each muffin and lightly swirl (I used a plastic bag snipped as a pastry bag). Top with 1 generous tablespoon of topping.
Bake at 350 for 20-25 minutes, until a toothpick comes out clean from the muffin. Let cool in pans for 5 minutes, then remove to racks to cool completely. Makes 24 muffins.