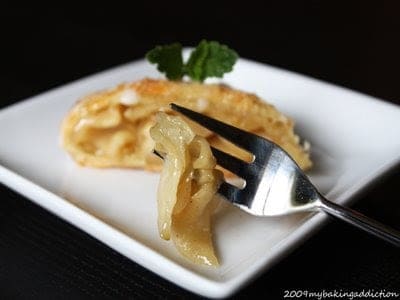 As the month of May comes to an end, it is time for another Daring Bakers Reveal. The May Daring Bakers' challenge was hosted by Linda of make life sweeter! and Courtney of Coco Cooks. They chose Apple Strudel from the recipe book Kaffeehaus: Exquisite Desserts from the Classic Cafés of Vienna, Budapest and Prague by Rick Rodgers.
When the recipe for May was revealed, I concluded that I have never tasted a homemade strudel, nor have I ever consumed a strudel other than the Entenmann's variety from the grocery store. I actually think the Entenmann's products are referred to as danishes, but in my mind they are strudels, so just roll with that concept for my sake.
We are not huge fans of warm fruit desserts in my home, but being a Daring Baker I had to at least give it a whirl. If we liked it, great…if not, no big deal. I decided to stay with the apple recipe, but changed up the ingredients quite a bit from the original Daring Bakers recipe. I also omitted the nuts and raisins, because we do not particularly enjoy those in desserts either. I would've tried a mini cherry version, but to my dismay my beautiful cherries had grown a slight fuzz! I decided to make three small strudels just because I have a slight obsession with minifying baked goods!
I will confess, the rolling of the dough kind of scared me because every ounce of patience I have is used during the school day while dealing with my students. That leaves little patience for adults and baked goods. My dough was definitely not "tissue-thin" and you could most certainly not read anything through it, but I figured I would use my creative license and 1.3 ounces of remaining patience and roll until I was comfortable with the outcome. Once the dough was quasi-thin, I threw in some Nilla Wafer crumbs and my apple mixture, rolled her up and smeared the top with an egg wash. I think my dough was too thick to get a separation of layers. Once the baked strudel had cooled I drizzled on a powdered sugar glaze…and there ya have it folks, a homemade strudel.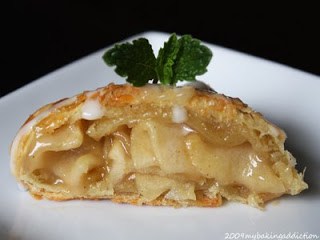 Here is our opinion of this challenge…
We liked this, but not really enough to make again. I am glad I tried it, but again we are just not huge fans of warm fruit desserts and this one did not change our minds!
For the recipe, head over to Linda's or Courtney's blog! Thanks for stopping by!