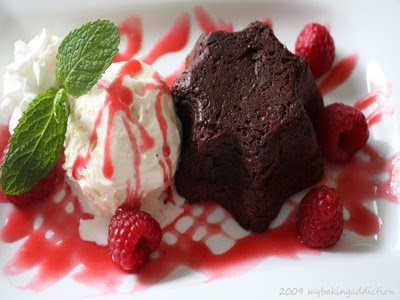 Today is already February 28

th

…the end of the month means another Daring Bakers reveal.
The February 2009 challenge is hosted by Wendy of

WMPE's

blog and

Dharm

of Dad ~ Baker & Chef. We have chosen a Chocolate Valentino cake by Chef Wan; a Vanilla Ice Cream recipe from

Dharm

and a Vanilla Ice Cream recipe from Wendy as the challenge.
Here is what we had to do…
1. Use the recipe for Chef

Wan's

Valentino Chocolate Cake
2. Make our own ice cream using our favorite flavors and recipe
3. Use our favorite chocolate…I used semi sweet
I have been super busy recently and was relieved that this recipe was quite simple and would not require days of prep work and a lot of ingredients. In fact, I had everything for this recipe in my pantry and fridge. I have a

KitchenAid

ice cream attachment which got quite the workout over the summer months, but honestly has not seen the light of day since October. I was pretty excited to pull it from the depths of my cupboards and put it to work. I knew exactly which ice cream I was going to make as soon as I read the recipe. This cake needed to be accompanied by
Tyler Florence's Vanilla Bean ice cream
which tastes just like

crème

brûlée

. I have made Tyler's recipe several times and I always cut the recipe in thirds. I love the recipe because it is a great base and can be tweaked to suit your taste!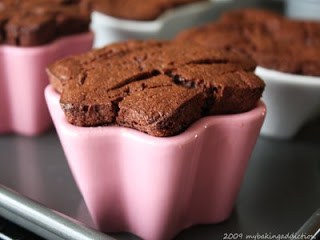 The Valentino Chocolate Cake came together so quickly, I was paranoid that I was missing a step or an ingredient.

I

have a heart shaped pan, but I decided to use a variety of ramekins that I have picked up in recent weeks. I was nervous about cake releasing from the walls of the ramekins, so I also used a 4 inch

springform

as a preventative measure. These popped right out the ramekins, so no preventative measure was needed!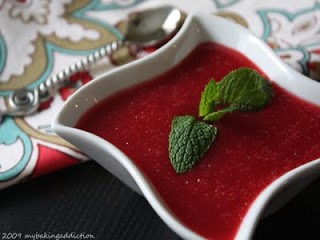 I served my mini cakes with the ice cream, whipped cream and a delicious raspberry sauce from

allrecipes

. All of the flavors complimented

each other

wonderfully and we were truly impressed with the

simplicity

of this recipe and the fact that is produced such a magnificent dessert. Many thanks to

Dharm

and Wendy for picking this fabulous dessert…you can find the recipe by clicking the links to their blogs. If my post leaves you craving more

flourless

chocolate cake, head over to the Daring Bakers

Blogroll

for my versions of this sinfully delicious dessert.