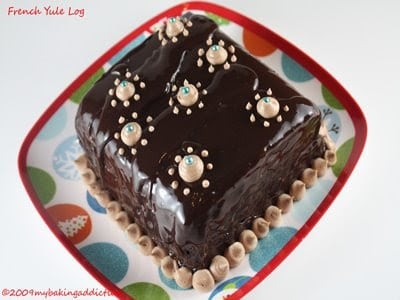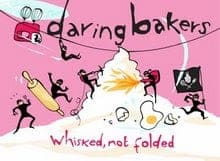 This month's challenge is brought to us by the adventurous Hilda from
Saffron and Blueberry
and Marion from
Il

en

Faut

Peu

Pour

Etre

Heureux
. They have chosen a French Yule Log by Flore from
Florilege

Gourmand
.

Let me start by saying that if you abhor curse words, you may want to step away from my blog for this particular post. Just reading this recipe almost made me pop a Xanax and chase it down with a some sort of martini (I do not even drink). My first thought was holy shit, this recipe is like 18 pages! What the hell could I possibly concoct in my kitchen that would entail 18 freaking pages? Keep in mind the only item I have any experience with from the 6 components (listed below) is creme brulee. Not to mention the closest thing to a yule log I have ever consumed would be a Little Debbie Swiss Roll. I calmed down (without Xanax and booze) and realized that there are MANY variations of this log and the recipe included the ingredients and method for many of these variations.

This recipes has six components:
1. Dacquoise Biscuit
2. Mousse
3. Ganache Insert
4. Praline (Crisp) Insert
5. Creme Brulee Insert
6. Icing

Thankfully, I am off of work until January 5th, so I had some spare time on my hands to peruse the Daring Bakers forum. This allowed me to learn from other peoples mistakes/triumphs and organize my obsessive compulsive self in the best way possible. First, I decided to narrow down my choices for flavors, and these were my choices…

1. Dacquoise Biscuit- almond
2. Mousse- milk chocolate
3. Ganache Insert- dark chocolate
4. Praline (Crisp) Insert
5. Creme Brulee Insert- vanilla sans the bean because I was out
6. Icing- dark chocolate
I chose most of these components in the sweet and mild variations because I was serving this for New Year's Day dinner and neither the boyfriend nor the brother are very fond of dark chocolate.

Here is how I went about this baby-
Day 1- Creme brulee baked up just fine and within the time stated in the recipe. I used a Pyrex bread pan which was smaller than the pan I was using for the Yule Log. I lined the pan with non-stick foil and had no problem releasing this from the pan. I tossed this in the freezer.
Day 2- I made the Praline Crisp Insert using…drum roll please…Frosted Flakes! I did not have Rice Krispies, Special K or Corn Flakes, so I figured these would have to work.
I also made the mousse as it was stated it could be refrigerated overnight.
Day 3- Gananch Insert and Dacquoise Biscuit.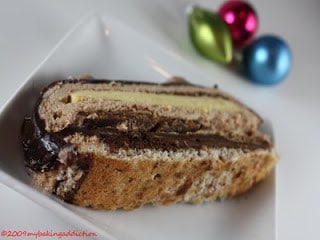 Excuse this pic…my log was too damn soft which led to this hellacious picture and quite undicernable layers…I promise all six of those suckers are there!

Okay, so I realize this is not my best work, in fact it is quite ugly, HOWEVER, all that ate it really enjoyed it and said it was worth the three day prep work! Thanks to Susie, Dad, Jared and

Bri

for enduring my Yule Log insanity! Happy New Year!!!