Hey y'all, I'm visiting from Bluebonnets & Brownies today to share with you one of my favorite holiday cookies – that ubiquitous M&M cookie, with festive red, white, and green candies poking out of chewy cookie dough.
First, let me apologize for the un-Jamie-like photos. Normally I do a better job, but you see, I served these cookies at my "Cookies & Cocktails" party a few weekends ago, and as I rushed to prepare for 10 or so New Jerseyan food bloggers and their progeny to descend on my house, I realized I also needed to fit in snapping a few shots of these cookies.
That Cookies & Cocktails party was actually inspired entirely by Jamie. Last month, Jamie posted about HostaCookieParty.com, and the posts she did for that site filled me with all sorts of ideas for hosting my own cookie swap.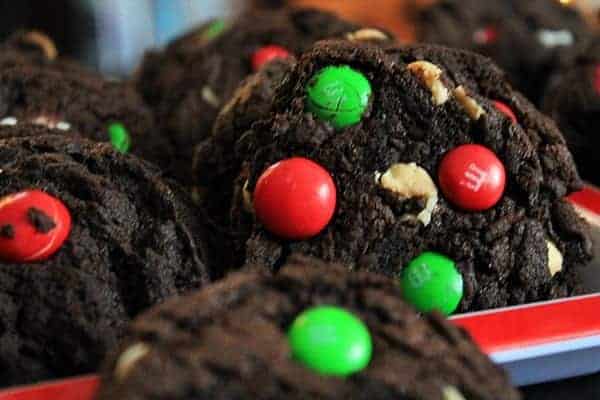 I'm happy to report that our party was a rousing success, and so are these deep, dark chocolate cookies with the newest holiday M&Ms on the block, White Chocolate Peppermint M&Ms. The cookie dough itself actually borders on brownie dough, so they have a crispness to the outside that I think you'll enjoy.
I didn't want the peppermint taste to become overwhelming, so I actually mixed in some white chocolate chips and regular holiday M&M candies too – mostly because I wanted a little green in there, and the White Chocolate Peppermint M&Ms are only red and white.
One of the guys that came to the party ended up leaving with an entire extra bucket of cookies to share with his extended family, and later declared these cookies his favorite – and he didn't even know they were mine! Gotta love when that happens.
Thanks for letting me hang out here today, Jamie. I hope y'all have a happy holiday season and a fabulous 2013!
[pinit]

Dark Chocolate Peppermint M&M Cookies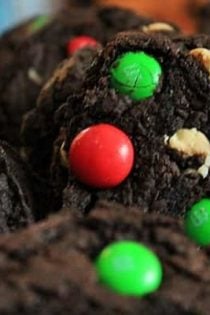 Ingredients:
2 1/2 cups all purpose flour
1/4 cup Hershey's Special Dark Cocoa Powder
1/4 cup dutch processed cocoa powder
1 teaspoon baking soda
1 teaspoon kosher salt
6 oz milk or semisweet chocolate chips
8 oz (2 sticks, 1 cup) unsalted butter, divided
2 cups granulated sugar
2 eggs
1 teaspoon vanilla extract
1/2 cup milk chocolate M&M candies
1/2 cup white chocolate peppermint M&M candies
1/2 cup white chocolate chips
Directions:
1. Preheat the oven to 325°F. Line baking sheets with parchment paper.
2. In a large bowl, combine all purpose flour, cocoa powders, baking soda, and kosher salt. Use a whisk to stir, evenly distributing the dry ingredients and aerating the flour at the same time. Set aside.
3. In a large measuring cup, melt together 4 oz (1 stick or 1/2 cup) butter and chocolate in the microwave, heating 30 seconds at a time. After 30 seconds, stir the butter and chocolate together, then heat again. Stir after each increment until butter and chocolate combine easily. Do not overcook. Set aside to slightly cool.
4. In the bowl of a stand mixer or a large mixing bowl, mix the remaining 4 oz of butter together with granulated sugar, scraping the bowl often. Add eggs, one at a time, mixing on medium speed after each addition. Continue to scrape the sides of the bowl often.
5. Add vanilla to the mixture and mix on medium speed again until the wet ingredients are well combined. Leave the mixer on low speed and slowly add in the chocolate-butter mixture. Add it slowly so as not to accidentally 'cook' the eggs with the warm chocolate.
6. When chocolate has been completely incorporated, begin to add the dry ingredients in increments, mixing on low speed after each addition.
7. When a cohesive dark chocolate dough has formed, be sure to scrape the sides and bottom of the bowl to get any remaining flour and mix again, then remove from the stand mixer if using one.
8. Add both types of M&Ms and white chocolate chips to the dough, mixing them through by hand.
9. Use a medium sized cookie scoop to distribute 6-8 dough balls per baking sheet.
10. Bake each tray for 12-14 minutes. Remove from the oven. The cookies will be puffy. If you want the cookies to be flat like you see in the photo, immediate press each cookie with the flat back of a spatula, then allow to cool.
11. Cool the cookies on the baking tray for a moment, then move them to a wire rack to cool completely.
Notes:
- Dough may be made ahead of time, portioned, and frozen until ready to bake.
- If a cookie doesn't look 'festive' enough, you can press more M&M candies directly into the top of the cookie as it comes out of the oven, but you must do it then or they won't stay attached.
- Stores in an airtight container for up to 4 days.
All images and text ©
Follow Jamie on Instagram. We love to see what you're baking from MBA! Be sure to tag @jamiemba and use the hashtag #mbarecipes!