The July Daring Bakers' challenge was hosted by Nicole at Sweet Tooth. She chose Chocolate Covered Marshmallow Cookies and Milan Cookies from pastry chef Gale Gand of the Food Network.
It seems as though every month I procrastinate the Daring Baker challenges until the last possible second and this month was no exception. Late Saturday evening I realized this challenge was due on Monday, so I dedicated my Sunday afternoon to the recipe.
The cookie base dough came together very quickly, but I found that only an hour in the fridge did not make this dough manageable enough to roll. It stuck to my fingers, the rolling pin, the cookie cutter… well, everything! I popped it in the freezer for about 10 minutes and that seemed to do the trick.
These cookies baked up perfectly in exactly ten minutes. The second step of this recipe is making the marshmallow filling and I opted for a coconut flavored filling. I found it to be damn scrumptious!
This process made me curse several times because all of my thermometers were reading at different temps and since I have little candy making experience under my belt, I had no clue what texture/look I was trying to achieve.
Once I thought I had the right consistency the rest of the process was a breeze. I let the marshmallows dry for about three hours, then dipped them in semisweet chocolate that I had thinned out a little bit with paramount crystals.
When the chocolate was still wet I sprinkled on some toasted coconut and threw some non pareils on a few after I ran out of chocolate. I'm looking forward to trying out the Milan Cookies later this week! For more variations of this this Daring Bakers' Challenge, check out the Daring Kitchen.
Have a deliciously addictive day and don't forget to enter the Beanilla giveaway on my blog for 40 vanilla beans from all over the world!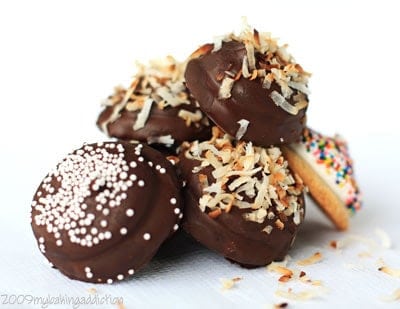 [pinit]