Chocolate Soufflé… one of those decadent dessert items that I have seen on high end restaurant menus, but never attempted at home. Why? Not because I am lazy – well maybe a little – but mainly because things that rise intimidate me. This is alsothe reason I rarely make bread, rolls, etc.
However, after talking with a few co-workers about soufflés, I decided to give them a go last week. After a little online searching, I came across Mark Bittman's recipe which he claims to be "easy"…this one little word is what sold me! Once I read the recipe, I was totally confident. I rolled up my sleeves, tied back my hair and hit the kitchen.
This recipe seriously comes together very quickly and the beauty of it is that you can make them ahead of time and store them in the fridge until you are ready for dessert. I even left one in the chiller for 24 hours and it baked up just as good as the ones the day before. I served these with fresh raspberries and a light shake of confectioners' sugar. It had great texture and flavor and was the perfect ending to a hectic day!
I hope you make these for your familyand friends and enjoy them as much as we did!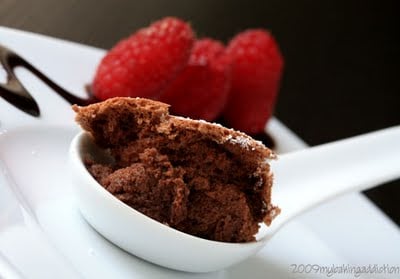 If you are still feeling a little intimidated (although you shouldn't be), check out Bittman's video tutorial on Facebook.

Easy Chocolate Soufflé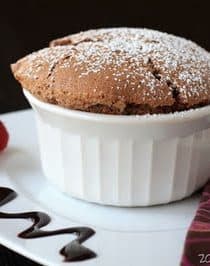 Ingredients:
1 tablespoon butter, for dish (approximately)
1/3 cup sugar, plus some for dish
3 eggs, separated
2 ounces good quality bittersweet chocolate, melted
1 pinch salt
1/4 teaspoon cream of tartar
Directions:
1. Preheat oven to 350 °F. Butter two 2-cup or one 4-cup soufflé or other deep baking dish(es). Sprinkle each with sugar, invert it and tap to remove excess sugar.
2. Beat egg yolks with all but 1 tablespoon sugar until very light and very thick; mixture will fall in a ribbon from beaters when it is ready. Mix in the melted chocolate until well combined; set aside.
3. Wash beaters well, then beat egg whites with salt and cream of tartar until whites hold soft peaks; continue to beat, gradually adding remaining tablespoon sugar, until they are very stiff and glossy. Stir a good spoonful of whites thoroughly into egg yolk mixture to lighten it; then fold in remaining whites, using a rubber spatula. Transfer to prepared soufflé dish(es); at this point you can cover and refrigerate until you are ready to bake.
4. Bake until center is nearly set, 20 minutes for individual soufflés and 25 to 35 minutes for a single large soufflé. Serve immediately.
Notes:
- I added 1/4 teaspoon vanilla bean paste for no reason other than I am mildly addicted to this stuff.
- I got three soufflés out of this recipe instead of the two.
- These fall quick and I mean QUICK, so if you plan on taking photos of these, get everything set up and take them immediately after removing from the oven!!!
- Mark Bittman
All images and text ©
Follow Jamie on Instagram. We love to see what you're baking from MBA! Be sure to tag @jamiemba and use the hashtag #mbarecipes!
[pinit]