Although I typically do not post appetizers and main dishes on my blog, this recipe was just too good to keep to myself. If you watch Top Chef, you are probably very familiar with the term "deconstructed" as it is used the culinary world. It seems like someone on that show is always deconstructing something. My favorite deconstructed dish from this season of Top Chef was definitely Ashley's recipe for pot roast… the recipe looked amazing and was thoroughly enjoyed by the judges, but I must confess, I am far too lazy to make this dish at home. However, when I saw Ina Garten's recipe for deconstructed stuffing I knew this was something more my speed and thought it might just be a prefect appetizer course for Thanksgiving.
Essentially these are stuffed mushrooms overflowing with a sausage and panko filling bound together by creamy marscapone cheese. I found marscapone cheese at Fresh Market, but if you don't feel like shelling out the cash for marscapone, I think cream cheese would work just fine. I also used sherry instead of the Marsala because that is what I had on hand. Although I would never forego my usual Thanksgiving stuffing recipe for the deconstructed version, I loved the flavor and texture of these mushrooms and will definitely make them again. I hope you enjoyed this brief break from baked goods, but rest assured I will back tomorrow with a Thanksgiving breakfast/brunch item that will be sure to make your mouth water. Have a great day and thanks so much for stopping by!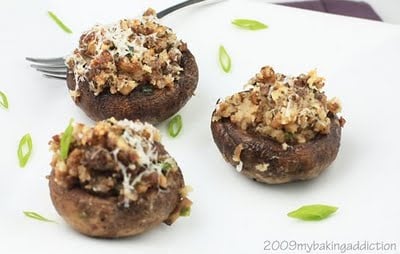 Stuffed Mushrooms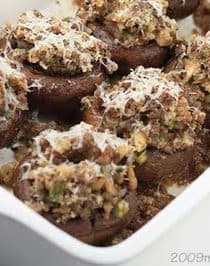 Ingredients:
16 extra-large white mushrooms
5 tablespoons good olive oil, divided
2 1/2 tablespoons Marsala wine or medium sherry
3/4 pound sweet Italian sausage, removed from the casings
6 scallions, white and green parts, minced
2 garlic cloves minced
2/3 cup panko crumbs
5 ounces mascarpone cheese, preferably from Italy
1/3 cup freshly grated Parmesan
2 1/2 tablespoons minced fresh parsley leaves
Salt and freshly ground black pepper
Directions:
1. Preheat the oven to 325 degrees F.
2. Remove the stems from the mushrooms and chop them finely. Set aside. Place the mushroom caps in a shallow bowl and toss with 3 tablespoons of the olive oil and Marsala. Set aside.
3. Heat the remaining 2 tablespoons olive oil in a medium skillet over medium heat. Add the sausage, crumbling it with the back of a wooden spoon. Cook the sausage for 8 to 10 minutes, stirring frequently, until it's completely browned. Add the chopped mushroom stems and cook for 3 more minutes. Stir in the scallions and garlic and cook for another 2 to 3 minutes, stirring occasionally. Add the panko crumbs, stirring to combine evenly with all the other ingredients. Finally, swirl in the mascarpone and continue cooking until the mascarpone has melted and made the sausage mixture creamy. Off the heat, stir in the Parmesan, parsley, and season with salt and pepper, to taste, Cool slightly.
4. Fill each mushroom generously with the sausage mixture. Arrange the mushrooms in a baking dish large enough to hold all the mushrooms in a snug single layer.
5. Bake until the stuffing for 50 minutes, until the stuffing is browned and crusty.
Notes:
- I cut this recipe in half, which yielded 8 stuffed mushrooms.
- I used the sherry as a substitute for the Marsala.
- These reheat very well, we had them for leftovers the following day and they were just as delicious.
Follow Jamie on Instagram. We love to see what you're baking from MBA! Be sure to tag @jamiemba and use the hashtag #mbarecipes!
[pinit]