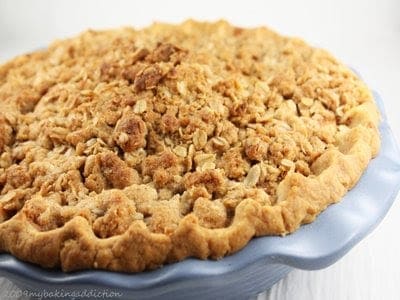 I stumbled across a Pampered Chef Deep Dish Pie Plate in my garage. I got this plate as a gift; however, I never used it then forgot about because it was buried amongst random stuff in my garage. Well, once I pulled it out of the box, I knew I had to make something amazing and delicious! This particular pie plate is stoneware and I immediately fell in love with it and now I want to purchase everything in the stoneware collection! I had some Granny Smith apples in the fridge, so I decided to make a deep dish apple pie. Deciding on what to make was the easy part, but determining which recipes to use…well, that was another story. After browsing allrecipes and recipeszaar for what seemed like hours, I finally decided on the crust recipe and the filling recipe. The topping I winged from a previous apple tart that I made, it includes rolled oats, which in my opinion takes a typical crumb topping to another level! This pie turned out delicious…the apples cooked beautifully, the caramel sauce in the pie added just the right amount of sweetness and the crust was tender and flaky! I am posting each recipe with my adaptations. The links will take you to the original recipes. If you have some extra time this week, get in your kitchen and make this pie. I promise you will not be sorry!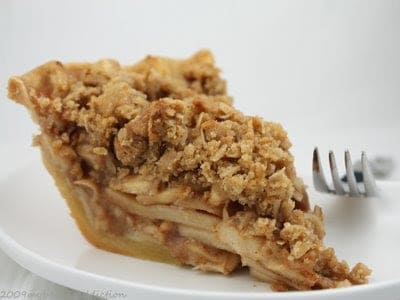 Pie Crust adapted from allrecipes
Ingredients
2 cups all-purpose flour
3/4 cup and 2 tablespoons shortening
1 tablespoon and 1-1/2 teaspoons white sugar
1 teaspoon salt
1/2 egg
1/4 cup water
Directions
In a large mixing bowl, combine all-purpose flour, shortening, sugar, and salt. Blend together with a pastry cutter until crumbly.
In a small bowl, mix egg with water. Blend into flour mixture. Chill in refrigerator until ready to use.
Notes: I halved the original recipe which was perfect for a 9 inch deep dish pie plate. The recipe I posted is the halved version.
Apple Pie Filling adapted from allrecipes
Ingredients
1/2 cup unsalted butter
3 tablespoons all-purpose flour
1/2 cup white sugar
1/2 cup packed brown sugar
1/4 cup water
6 Granny Smith apples – peeled, cored and sliced (my apples were large 6 were perfect)
2 tsp cinnamon
1/4 teaspoon freshly grated nutmeg
Directions
1. Melt butter in a sauce pan. Stir in flour to form a paste. Add white sugar, brown sugar and water; bring to a boil. Reduce temperature, and simmer 5 minutes.
2. Toss the apples with the cinnamon and nutmeg.
3. Meanwhile, place the crust in your pan.
4. Fill with apples, mounded slightly. Gently pour the sugar and butter liquid over apples. Pour slowly so that it does not run off. Cover with crumb topping (recipe below).
Bake 15 minutes at 425 degrees F (220 degrees C). Reduce the temperature to 350 degrees F (175 degrees C), and continue baking for 35 to 45 minutes.
Oatmeal Streusel Topping
1/2 teaspoon ground cinnamon
1/4 teaspoon ground nutmeg
3/4 cup all-purpose flour
1/2 cup packed brown sugar
3/4 cup rolled oats
1/2 cup butter; slightly softened
Prepare Oatmeal Streusel Topping by combining flour, teaspoon cinnamon, nutmeg, brown sugar, and oats. Mix thoroughly, then cut in butter until mixture is crumbly.