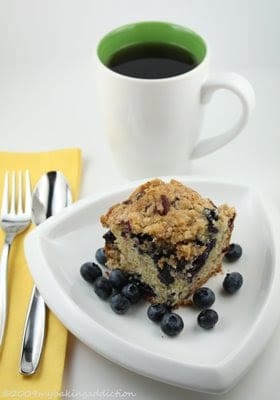 Today's Tuesdays with Dorie recipe for Blueberry Crumb Cake was chosen by Sihan of Befuddlement. I like blueberries, but only in their firm, slightly sour state…meaning I am not a huge fan of a mushy berry. I am also not a fan of frozen fruit unless it's going into a smoothie, so I was a little pumped when I found some firm blueberries on sale at the market. This crumb cake calls for the aromatic mixture of sugar mixed with lemon zest and lots of blueberries…a delightful combination that will make your taste buds very happy! I thought this cake was a breeze to assemble, but damn…it used a lot of different bowls! I had read on the P&Q that people were having an issue with pooling butter forming in the centers of their cakes; however, for whatever reason, I did not have this issue. The smell of this cake is slightly intoxicating and will fill your home with the nutty, sweet aroma from the crumb topping as it browns in the oven. This cake tasted amazing accompanied with a cup of Chai Tea.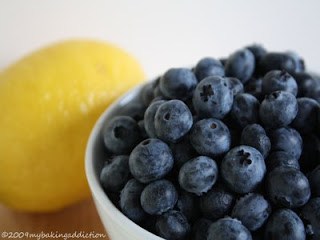 I look forward to this wonderful cake for breakfast tomorrow! This cake ranks high on my TwD list and I will definitely make this again in the very near furture!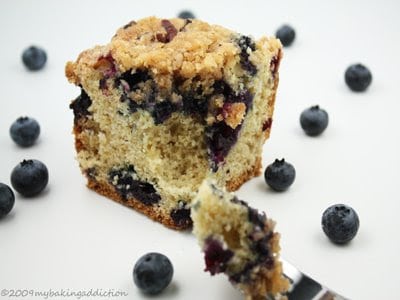 Thanks, Sihan for a delicious pick! For the recipe, head over Sihan's blog or flip to pages 192-193 in Baking: From My Home to Yours. Also check out more delightfully delicious interpretations of this week's dessert by clicking here to check out the Tuesday's with Dorie blogroll.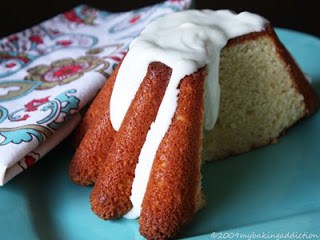 Oh and let me not forget last week's recipe for Dorie's French Yogurt Cake. This dessert was chosen by Liliana of My Cookbook Addiction. I did not post last week due to St. Patrick's Day recipes, so I thought I would give ya a double dose of Dorie today. I baked this cake in a large brioche pan I purchased from Williams Sonoma and topped it with a cream cheese icing. This cake was really tasty and is a definite must try! Click here for the recipe.
Thanks for stopping by and I hope one of these recipes makes your day deliciously addictive!