Brownies. They are one of those desserts I think I will continue to experiment with for the rest of my life. There are so many recipes and methods out there, so I have a hard time making the same one twice.
HOWEVER, these brownies are so close to perfection that I made them three times in the last month! Yep, folks, you read that correctly – three times in one month! As most of you know, chocolate does little for me, but there is something about the smell of brownies in the oven that settles my mind. A calming aromatherapy of sorts.
I guess it's a good thing that I don't have to actually eat them to de-stress or I would be in BIG trouble, or shall I say my rear end would be in BIGGER trouble! The original recipe does not call for the addition of the frosting and I am sure they are just dandy without it, BUT I was told that it's the frosting that makes these so delectable!
So if ya had a long week, you're in a funk, or you're just plain cravin' something sweet, make these brownies. I am betting they will improve your mood! Have a great weekend, stay warm and thanks for stopping by! Be sure to check back next week for a little Trick or Treat inspired giveaway!

Double Chocolate Brownies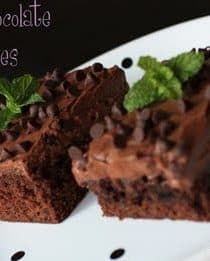 Ingredients:
For the Brownies
1/2 cup white sugar
2 tablespoons butter
2 tablespoons water
1 1/2 cups semisweet chocolate chips
2 eggs
1/2 teaspoon vanilla paste (extract will work just fine)
2/3 cup all-purpose flour
1/4 teaspoon baking soda
1/2 teaspoon salt
2/3 cup mini chocolate chips (folded into the batter before baking)
For the Frosting
1/2 cup (1 stick) butter or margarine (I used butter)
2/3 cup HERSHEY'S Cocoa
3 cups powdered sugar
1/3 cup milk
1 teaspoon vanilla extract
Directions:
For the Brownies
1. Preheat the oven to 325°F (165°C). Grease an 8×8 inch square pan.
2. In a medium saucepan, combine the sugar, butter and water. Cook over medium heat until boiling.
3. Remove from heat and stir in chocolate chips until melted and smooth. Mix in the eggs and vanilla.
4. Combine the flour, baking soda and salt; stir into the chocolate mixture and fold in the mini chocolate chips.
5. Spread evenly into the prepared pan.
6. Bake for 25-30 minutes in the preheated oven, until brownies set up. Do not overbake! Cool in pan and cut into squares.
If you choose to frost these bad boys, here is the recipe from Hershey's!
For the Frosting
1. Melt butter. Stir in cocoa.
2. Alternately add powdered sugar and milk, beating to spreading consistency.
3. Add small amount additional milk, if needed. Stir in vanilla.
4. Makes about 2 cups frosting. Frost brownies and garnish with a handful of mini chocolate chips, if desired.
slightly adapted from allrecipes
All images and text ©
Follow Jamie on Instagram. We love to see what you're baking from MBA! Be sure to tag @jamiemba and use the hashtag #mbarecipes!
[pinit]