If you frequent my blog or follow me on Twitter, you may recall that I am trying to clean out my pantry and only bake using ingredients I have on hand. Well, let me tell ya, I am now down to some slim pickings.
I am officially out of confectioners' sugar, nuts, light brown sugar, pure vanilla extract, chocolate chips and have a scant supply of cocoa powder, butter and white sugar! This recipe will probably be the last one I can make before hitting up the market this afternoon to restock the shelves.
It is amazing how much space I was able to free up. I should have taken before and after pics!
I found this recipe by using the ingredient search on allrecipes and let me tell ya, it's easy, requires minimal ingredients and bakes up some amazingly soft, chocolate cookies.
On another topic, I realized that my "blogoversary" is in 6 days. How time flies! I cannot believe I have been blogging for almost a year and that people actually read these posts on a regular basis!
As a thank you to all of my readers, I will be posting a giveaway with random baking essentials such as cupcake liners, piping tips, sprinkles, etc. on Saturday, July 18th. Thanks again for taking an interest in my writing, recipes and photographs, you guys are fabulous!
Okay one more thing… I have been nominated for America's Next Top Cookie on The Cookie Blog, I would love for you stop by and post a comment voting for me; Contestant #8, although I won't be mad at ya if you fall in love with the butterfly cookies… I know I did!
That's all for now, have a deliciously addictive day! Now I am off to the market with a handful of coupons to re-stock my pantry and pick up some giveaway goodies! :)

Double Chocolate Chip Cookies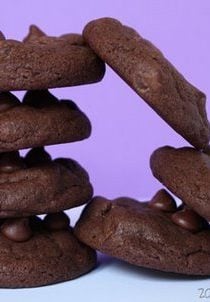 Ingredients:
1/2 cup butter, softened
3/4 cup white sugar
1 egg
1 teaspoon vanilla extract
1 cup all-purpose flour
1/3 cup cocoa powder
1/4 teaspoon baking powder
1/4 teaspoon baking soda
1/8 teaspoon salt
1 cup semisweet chocolate chips
Directions:
1. Preheat oven to 350°F.
2. In large bowl, beat butter, sugar, eggs, and vanilla until light and fluffy. Combine the flour, cocoa, baking soda, and salt; stir into the butter mixture until well blended. Mix in the chocolate chips. Drop by rounded teaspoonfuls onto ungreased cookie sheets.
3. Bake for 8 to 10 minutes in the preheated oven, or just until set. Cool slightly on the cookie sheets before transferring to wire racks to cool completely.
Notes:
- I measured these using my 1 tablespoon cookie scoop, rolled them into balls and slightly flattened them with my palm. Once they came out of the oven, I added a few extra chips to the tops of each cookie.
All images and text ©
Follow Jamie on Instagram. We love to see what you're baking from MBA! Be sure to tag @jamiemba and use the hashtag #mbarecipes!
[pinit]