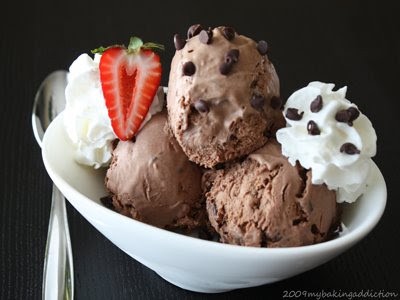 The temperatures here in Ohio are on the rise and in my opinion nothing relieves the heat like a cup of homemade ice cream. I recently purchased Williams Sonoma's Ice Cream book and fell in love. It has a great selection of over forty recipes ranging from the classics to more indulgent selections. The photography in this book is outstanding and the recipes are extremely well written and easy to follow! Since I am such a sucker for great food photography I am definitely going to purchase more of these books from Williams Sonoma in the very near future! This book is no longer available on Williams Sonoma's website, but I was so smitten with it that I hit up ebay and purchased a copy to giveaway on my site. I do not have my purchase yet, but stay tuned next week for a chance to enter and another yummy ice cream recipe!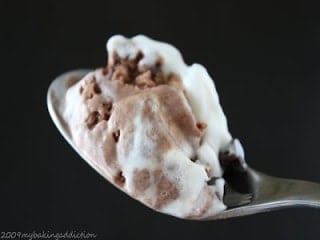 Double-Chocolate Ice Cream
from Williams Sonona Ice Cream
Ingredients
1 1/2 cups whole milk
1 1/2 cups heavy cream
4 large egg yolks
1/2 cup sugar
2 tablespoons unsweetened cocoa powder (I used Hershey's)
pinch of salt
6 ounces bittersweet or semi-sweet chocolate, coarsely chopped (I used semi-sweet)
2 teaspoons vanilla extract
Optional
1/2 cup mini chocolate chips (this was my addition)
Method
1. In a heavy 2 quart saucepan, combine the milk and 1 cup of the cream. Cook over medium heat until bubbles form around the edges of the pan, about 5 minutes.
2. Meanwhile, combine the egg yolks, sugar, cocoa, salt and remaining 1/2 cup of cream in a bowl. Whisk until the mixture is smooth and the sugar begins to dissolve.
3. Remove the milk mixture from the heat. Gradually whisk about 1/2 cup of the hot milk mixture into the egg mixture, whisking constantly, until smooth. Pour the egg mixture into the saucepan. Cook over medium heat, stirring constantly with a wooden spoon and keeping the custard at a low simmer, until it is thick enough to coat the back of the spoon and leaves a clear trail when a finger is drawn through it, 4-6 minutes. Do not let the custard boil. Put the 6 ounces of chopped chocolate in a heat proof bowl and pour the hot custard over it. Stir until the chocolate melts and the custard is smooth. Strain the custard through a fine-mesh sieve into a bowl. Add vanilla and stir to combine.
4. Place the bowl into a larger bowl partially filled with ice cubes and water. Stir occasionally until cool. Cover with plastic wrap, pressing it directly on the surface of the custard to prevent a skin from forming. Refrigerate until chilled, at least 3 hours or up to 24 hours.
5. Pour the custard into an ice cream maker and freeze according to the manufacturer's instructions. Stir in optional mini chocolate chips. Transfer the ice cream to freezer-safe container. Cover and freeze until firm, at least 3 hours or up to 3 days before serving.
6. Eat and beat the heat!!!