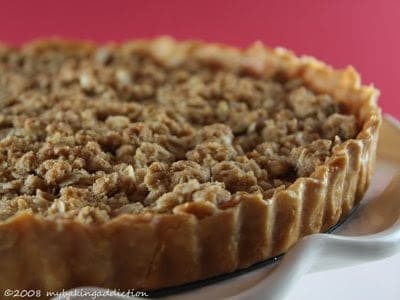 Although I would love to say that I am a jack of all baking trades, I must make a confession. I stink at pie crusts…I mean really stink! Let me explain…I can totally throw the dough in the food processor and roll it out, it's the crimping that gets me every time. No matter how many times I see it done on youtube or the food network, I simply cannot crimp a damn pie crust. They end up looking all crooked and they quite possibly parallel the work of a three year old child. However, I took it upon myself to remedy that situation by utilizing my beloved tart pan. My family and I are big fans of this stufffing, it calls for apples and craisins and is simply a-mazing! Since I just made this recipe for Thanksgiving, I had two leftover Granny Smith apples and an Alton Brown pie crust that were begging to be formed into a pie. However, two large apples were clearly not enough to make a pie. So, I took the crust threw it into my tart pan, and this was the end result! Simple and delicious!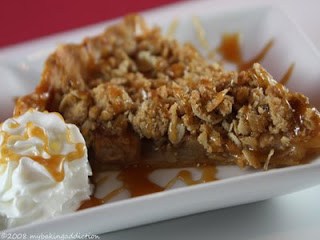 Dutch Apple Tart
1 recipe pastry for a 9 inch double crust pie (I used Alton Brown's recipe)
1/4 cup unsalted butter
1 tablespoon and 1-1/2 teaspoons all-purpose flour
2 tablespoons water
1/4 cup white sugar
1 teaspoon cinnamon
1/4 cup packed brown sugar
2 Large Granny Smith apples – peeled, cored and thinnly sliced
Oatmeal Streusel Topping
1/2 teaspoon ground cinnamon
1/4 teaspoon ground nutmeg
3/4 cup all-purpose flour
1/2 cup packed brown sugar
3/4 cup rolled oats
1/2 cup butter
1. Preheat oven to 350 degrees F.
2. Press pie crust into tart pan, poke bottom with fork tines, and blind bake for 7 minutes. After the 7 minutes, increase temp to 425 degrees F.
3. Melt the butter in a saucepan. Stir in flour to form a paste. Add water, white sugar and brown sugar, cinnamon and bring to a boil. Reduce temperature and let simmer.
4. Prepare Oatmeal Streusel Topping by combining flour, teaspoon cinnamon, nutmeg, brown sugar, and oats. Mix thoroughly, then cut in butter until mixture is crumbly.
5. Fill crust with apples. Give the sides of crust a quick egg wash.
6. Gently pour the sugar and butter liquid over the crust.
7. Top with prepared Oatmeal Streusel Topping.
8. Bake 15 minutes in the preheated oven. Reduce the temperature to 350 degrees F (175 degrees C). Continue baking for 30 to 40 minutes, until apples are soft.