[pinit]
Everyone loves coloring eggs for Easter. Its messy, fun, creative, and the results are always surprising. But, after dip-dying every year I thought this year it would be fun to switch it up. After scouring Pinterest and other craft blogs I decided to try to silk-dyed eggs, and I've also compiled a list of other really cool options.
I found the idea for silk dyed eggs on Our Best Bites, and never thought it would turn out as cool as they said or even work. Totally wrong! These are so pretty that you will want to keep them out year round. The key to this project is using the brightest and boldest patterns and colors you can find…ugly ties/patterns=beautiful eggs. Make sure you visit the thrift store vs. the fabric store. Better selection (of ugliness) and much much cheaper.
Silk dyed eggs should not be eaten since the dye used in fabric is not food safe. Blowing out the eggs will keep them from spoiling and you'll be able to display them for years to come. Thread twine or string through the egg to make them into Easter ornaments! How to Blow out Eggs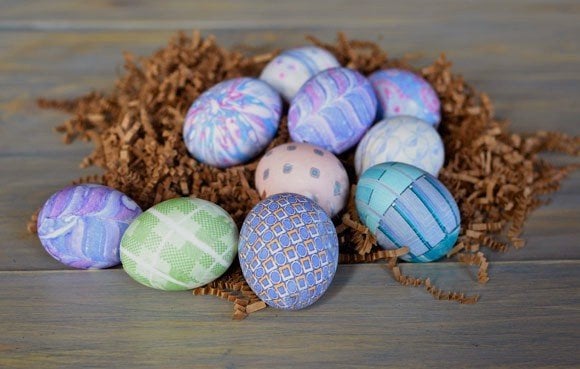 What You Will Need:
Eggs (white shells will work best)
A clean screw, paper clip, and straw (to empty the eggs)
100% Silk Scraps (ties, handkerchiefs, bandanas…etc).
Light Colored Cotton Fabric, such as an old sheet
White Vinegar
Rubber Bands or String
Large Pot or Sauce Pan
Scissors
How to Assemble: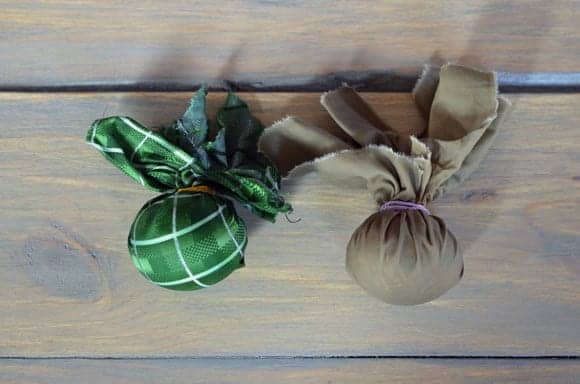 Blow out the eggs…How?
Cut squares of silk large enough to cover the egg (4×4 inch square should be good)
Pull up around egg, with the brightest side of the fabric against the egg, and tie with string or rubber band
Tie a second layer around the egg with the light cotton fabric, this helps keep the silk against the egg
Place in pan and cover with at least 2 inches of water and 1/4 cup of white vinegar
Empty eggs will float so turn often or help keep submerged by putting a plate on top of them
Simmer eggs for 20-25 minutes
Remove from water and let cool
Gently remove fabric and get ready to be AMAZED!
Here are some more beautiful and creative ideas for egg decorating!
Natural Egg Dyes from My Baking Addiction
DIY Washi Tape Easter Eggs from Lovely Indeed
Stenciled Eggs from Martha Stewart
Tissue Paper Egg Dyeing from Moments of Mommyhood
Glittered Eggs from Martha Stewart