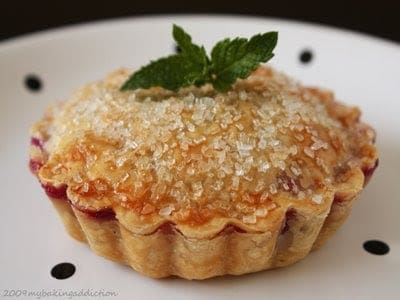 As many of you know, I am self-professed fruit overbuyer/waster. Early last week I had a couple of ripe nectarines and a small amount of raspberries so I decided to turn them into mini pies. Conveniently I also had (1) nine inch Pillsbury pie crust, which allowed me to save some time and cheat a little! I had originally planned on using a couple of peaches; however, after slicing them on the cutting board and snagging a couple to munch on, I realized they tasted like onion peaches! I suspect that one of us put the cutting board away by accident after slicing onions and before washing it. Since those suckers were not a tasty fusion of flavors, I chucked them into trash and opted for the nectarines. These came out very tasty and once cooled popped out of my Williams Sonoma 3 inch tartlettes with ease. The boyfriend enjoyed one with a scoop of vanilla bean ice cream. If ya have some extra fruit in your fridge, throw some together and follow this easy recipe to create a perfect summer treat!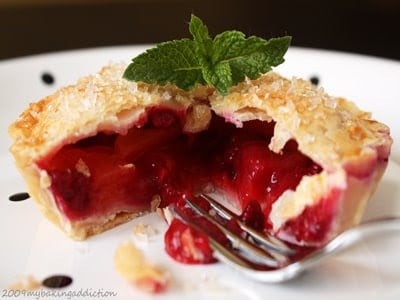 Nectarine and Raspberry Mini Pies
Makes (2) 3 inch pies
Ingredients
(1) frozen pie crust; thawed according to package directions
1 cup fresh peaches (or nectarines); peeled, pitted and thinly sliced
1/4 cup fresh raspberries
3 tablespoons white sugar
2 teaspoons all-purpose flour
1-1/2 teaspoons butter, softened and cut into pieces
1 egg; beaten
coarse granulated sugar
Method
1. Preheat oven to 400 degrees F.
2. Cut (4) circles out of your pie crust according to your pie pan size.
3. Spray your pans with non-stick cooking spray and place the bottom crusts into your pie pans.
4. Gently toss the fruit with sugar and flour. Transfer to pie crusts. Top with remaining crust. Cut vents in top crust, brush lightly with beaten egg and sprinkle with coarse sugar.
5. Bake 30 minutes in the preheated oven, until crust is golden brown.