Espresso Snack Mix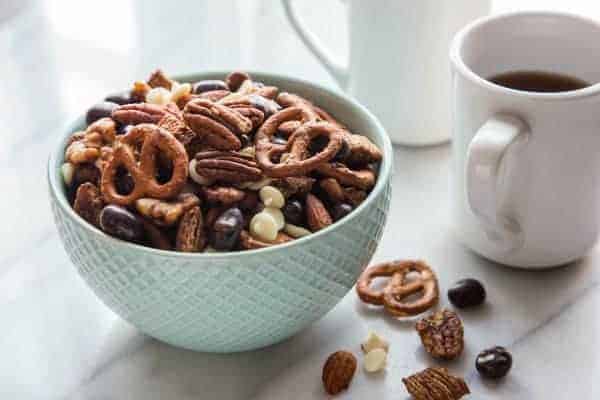 Almonds, walnuts and pecans star in this Espresso Snack Mix. Made decadent with oatmeal squares, pretzels, chocolate covered espresso beans, and white chocolate chips, it's a tasty treat that's heart healthy too!
This is a sponsored post on behalf of Fisher Nuts. Thank you for continuing to support the brands that make My Baking Addiction possible.
Did you know, in addition to hosting Valentine's Day, and being National African American History month, February is American Heart Month too?
So what's this American Heart Month about? Heart health, of course. Maybe it's having a baby, but Eric and I are definitely more aware of our own health and wellness these days. We try to get outside for exercise as much as we can (you know, when it's not stupid degrees farenheit with 20 inches of snow on the ground), and we try to pay attention to what we eat.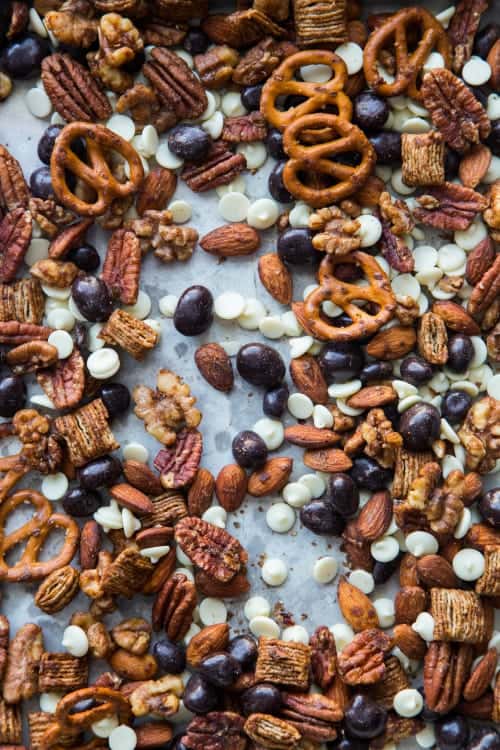 Sure, there are a lot of desserts on My Baking Addiction, but they're made with care, and we practice portion control a lot of the time, giving most of what I make away to family and friends so they can enjoy too.
One thing we're getting more into, since I started working with Fisher Nuts, is the health benefits of the various nuts they offer. For example, did you know walnuts are extremely high in omega-3 and omega-6 fatty acids? Good for your, I tell ya! Eating a handful of walnuts to get in some of those omega fatty acids in, instead of fish oil? I can get down with that, and in a hurry. Walnuts > Fish to my tastebuds, if I'm honest with you.
Did you know Fisher Nuts has nine products certified heart healthy by the American Heart Association? That is some serious snacking!
Pick up Fisher Pecan Halves, Pecan Chips, Chopped Pecans, Walnut Halves & Pieces, Walnut Chips, Chopped Walnuts, Whole Natural Almonds, Sliced Almonds, and Slivered Almonds – any of these on their own is a heart healthy snack.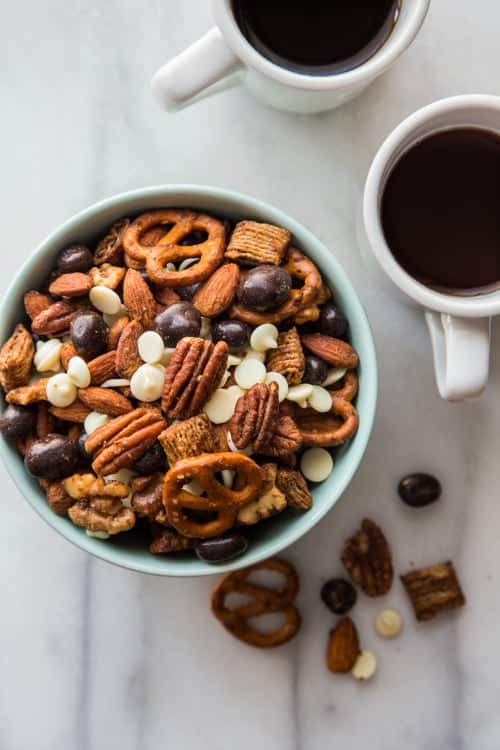 But making this Espresso Snack Mix with almonds, walnuts, pecans, oatmeal squares (oatmeal is heart healthy too!), pretzels, dark chocolate covered espresso beans, and white chocolate chips – a no brainer for getting those omega-3s in. It's super easy, and so dang tasty!
Don't get me wrong, this is still a treat, but it's a better-for-you treat than just eating straight white chocolate chips by the handful, you know what I mean? Plus, a little goes a loooong way. With all that protein from the nuts, and energy from the coffee beans, pretzels, and oatmeal squares, this is a snack that'll keep you going for a while.
Celebrate your heart, and those it loves, this month. Make this Espresso Snack Mix for everyone to enjoy.
Espresso Snack Mix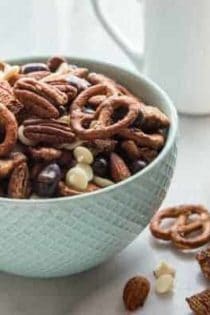 Ingredients:
1 cup Fisher Whole Almonds

1 cup Fisher Pecan Halves

1 cup Fisher Walnut Halves

4 Tablespoons salted butter, melted

1/4 cup light brown sugar

2 Tablespoons honey

1 teaspoon cinnamon

3/4 teaspoon instant espresso powder, optional

1 1/2 cups mini pretzels
1 1/2 cups oatmeal squares cereal
3/4 cup white chocolate chips

3/4 cups chocolate covered espresso beans
Directions:
1. Preheat oven to 350 degrees. Spread almonds, pecans and walnuts out onto a rimmed baking sheet. Bake until nuts are warm and fragrant, about 8 minutes.
2. Meanwhile, in the bottom of a large bowl whisk together melted butter, brown sugar, honey, cinnamon, and espresso powder.
3. Add warm nuts, pretzels, and oatmeal squares cereal. Stir gently until everything is evenly coated. Spread nut mixture evenly onto rimmed baking sheet and bake for 15-20 minutes, stirring once halfway through baking time. Remove from oven and let cool completely. When mixture comes out of the oven, the glaze will still be wet. It will dry and set as the snack mix cools. Be careful not to over bake the mix.
4. Once the mixture is cool, add white chocolate chips and chocolate covered espresso beans. Store mix in an air tight container for up to 5 days.
All images and text ©
Follow Jamie on Instagram. We love to see what you're baking from MBA! Be sure to tag @jamiemba and use the hashtag #mbarecipes!
Disclosure: This is a sponsored post on behalf of Fisher Nuts. All opinions are 100% my own. Thank you for continuing to support Fisher Nuts and the other brands that make My Baking Addiction possible.
This post may contain affiliate links. We are a participant in the Amazon Services LLC Associates Program, an affiliate advertising program designed to provide a means for us to earn fees by linking to Amazon.com and affiliated sites.