While scouring the internet and craft stores for Halloween inspiration, I realized that most Halloween DIYs were a little too "crafty" for me. Without little ones at home, they'd most likely be tossed in the trash on November 1st. I wanted to make something that could be kept from year-to-year and would appeal to the big kids too.
It took some trial and error, but I think the effort is definitely worth it. Etched Halloween glasses are admittedly something that requires concentration to figure out. Making sticker stencils helped a ton in getting the design on the glass. They made it so much easier, we created a few stencils for you – because take my word for it, free-hand is definitely NOT the way to go!
Halloween Etched Glasses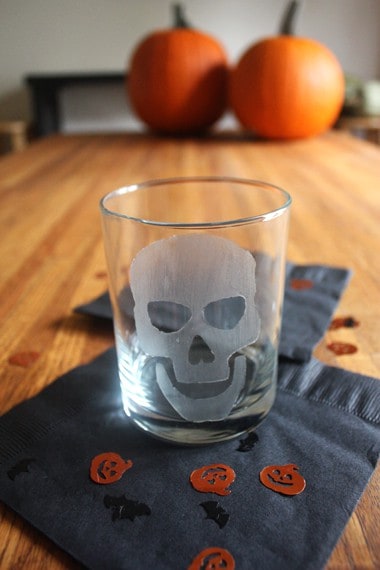 What You Will Need:
Glasses (I found mine for 88 cents a piece at Walmart. Or try the dollar store).
Small Paint Brush
Frost Etching Paint Martha Stewart Crafts brand, found at Amazon or Michaels
Printable Sticker Sheet Paper
Halloween designs, look for free ones online or use the ones provided. Just try to stick to simple lines, a complicated design will be too hard to cut out.
Scrapbooking Pen Knife
Cutting Board
How to Assemble:
Print designs on the sticker sheet. Do a test print first on regular printer paper to make sure the designs are the correct size
With pen knife, carefully trace the designs, cutting out the part that you want painted.
Peel stickers off paper and apply to the cleaned and dried glasses.
Paint a light layer of the frost etching paint in the stencil that you have cut out of the sticker paper.
Let the paint dry completely and gently remove the stickers (there will be a little bleeding under the stickers…don't worry!!)
Using the pen knife scrape off any paint that might have bled under the stickers and straighten up the edges of the design.
Following the directions on the Etching Paint, bake the glasses to set the designs.
Now you have spooktacular Halloween glasses! Whatever should you do with them? Fill them with a delicious cocktail that tastes like you're drinking creamy pumpkin pie? Great idea! Stay tuned later this week for a delicious and festive pumpkin cocktail.
*The design shows up more in person, but you can also tint your etching paint with other glass paint. I think it would look really cool tinted with black paint!