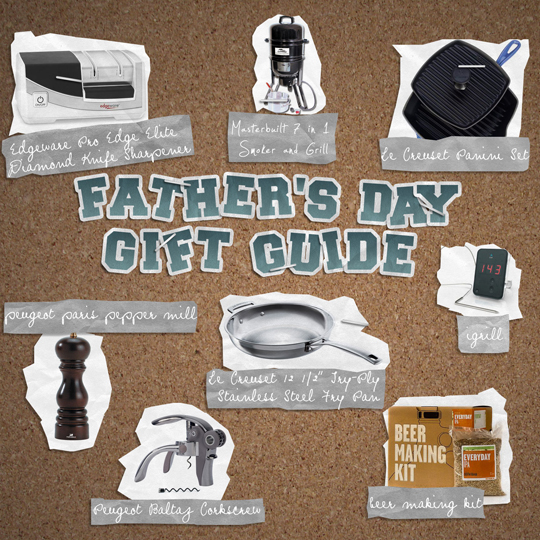 Hey MBA readers! With Father's Day right around the corner, we thought we'd compile a gift guide for all of the dads in your lives that love to be in the kitchen.
From the wine and beer lovers to the grill masters, we have you covered with a list of products that are sure to appeal to all of the foodie dads on your list.
I don't know about you, but my dad is SO hard to buy for! Probing him for ideas is useless: his standard response is "I don't need anything". Well, I don't ever really need either, but let me tell ya, I want a lot of things, and I know my Pops does as well.
I hope this guide makes shopping for dad a little simpler. Several of the items appearing on this gift guide could also make their way to your mailbox, since we'll be giving them away throughout the week. Stay tuned for some fabulous giveaways!
Masterbuilt 7 in 1 Smoker and Grill
This Smoker and Grill is perfect for all the grill masters. It uses propane or charcoal and can also boil, steam and deep fry! Multi-function at its best.
Le Creuset Panini Set
What guy doesn't love a good sandwich? This Panini Set from Le Creuset will allow dad to get super creative and whip up all kinds of amazing paninis for the whole family.
iGrill
A revolutionary gadget that will allow dad to cook meat to the perfect temperature and it syncs with an iPhone app that has all kinds of awesome features. Love this!
Beer Making Kit
A super simple kit that will allow dad to make his own beer? How awesome is that? It contains all the tools and ingredients needed—including the finest barley, hops and yeast—to brew it yourself in your own home. Brilliant.
Le Creuset 12 1/2″ Try-Ply Stainless Steel Fry Pan
From frying up bacon to perfectly searing scallops, this stainless steel pan will become dad's workhorse in the kitchen.
Peugeot Baltaz Corkscrew
Popping open a bottle of wine has never been so easy or sleek with this Peugeot Corkscrew. It's the perfect gift for wine loving dad that seems to have everything.
Peugeot Classic Paris u'select Pepper Mill
The masculine styling of this gorgeous pepper mill is the perfect accessory for the dads that like to spice things up in the kitchen.
Edgeware Pro Edge Elite Diamond Knife Sharpener
Keeping knives sharp is super important. This easy to use knife sharpener from Edgeware has become one of our favorite household gadgets.