I am sure many of you have absolutely no desire to turn on your oven to prepare dinner, so I thought I would put up a post that utilizes the grill. Now you all you have to do is get everything prepped and push your significant other towards the grill while you stay inside cool as a cucumber.
I remember seeing the combination of fig preserves and balsamic vinegar somewhere and thought it sounded quite interesting. Of course I cannot remember where I originally spotted this marinade combo, but it's summer and I tend to turn my brain off at this time of year.
You can totally take a short cut with this recipe and simply pick up the pre-skewered beef kabobs from your meat counter. I have done this on many occasions…it saves time and clean-up, plus you can snag these on sale quite often during the summer months. I served this up with roasted baby Yukon gold potatoes and brocollini for a fab summer dinner. I smeared a little goat cheese on my kabobs for a little extra kick! Thanks so much for stopping by MBA; stay cool!
Random Notes:
If you plan on making this recipe and need a gorgeous new knife to slice your beef and veggies, check out my giveaway for a New West KnifeWorks Santoku Knife.
Also, My Baking Addiction has been nominated for a BlogLuxe award in the area of "Best Eye Candy" blog. I would love if you took a minute to check it out and vote.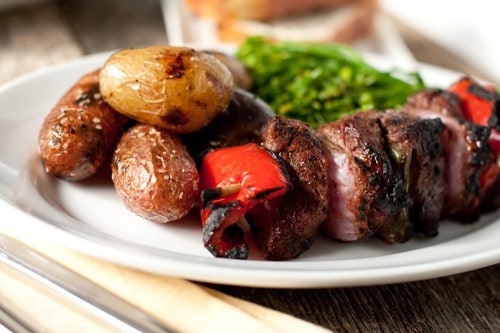 Fig and Balsamic Beef Kabobs
Ingredients
1.5 pounds of beef tenderloin
1 medium red onion, cut into 8 pieces
1 green pepper, cut into 8 pieces
3/4 cup fig preserves
3 tablespoons balsamic vinegar
1 tablespoon olive oil
1 teaspoon minced garlic
1/2 teaspoon Kosher salt
1/2 teaspoon fresh ground pepper

Directions
1. If using wooden skewers, be sure to soak four of them in water for at least 15 minutes; drain.
2. Place fig preserves, balsamic vinegar, olive oil, garlic, salt and pepper into a food processor or blender and pulse to combine. Set aside.
3. Cut beef tenderloin into sixteen equal pieces.
4. Alternately thread beef, onion and pepper pieces evenly onto skewers. Set aside.
5. Remove about 1/3 cup of the preserves mixture and set aside for dipping.
6. Liberally brush all sides of the kabobs with the preserves mixture.
7. Place kabobs on grill over medium heat. Grill the kabobs for about 7 to 10 minutes for medium rare (145°F) medium (160°F) well (170°F) doneness, turning and basting with sauce every couple of minutes.
8. Serve with reserved sauce for dipping.

Seriously, could it be any hotter in Ohio…my poor dog is even anti-outside right now! Temps are at 90°F as I type and my palms are sweating while I am sitting in the comfort of my air conditioning.