Celebrate cherry season with this sweet and delicious fresh cherry cobbler – it's perfect with a scoop of vanilla ice cream or a dollop of whipped cream.
We just got back from a ridiculously long vacation and if I'm being honest, I'm exhausted. At first I blamed the Florida heat, but I kind of think it has to do with the fact that things were ultra laid back for no less than 17 days. I didn't do much in the kitchen except scramble eggs and fry up some bacon.
I'm trying to get back into the swing of things, but I'm definitely requiring a couple of cat naps. Okay, they're longer than cat naps, but who's keeping track of the minutes? It is summer, after all.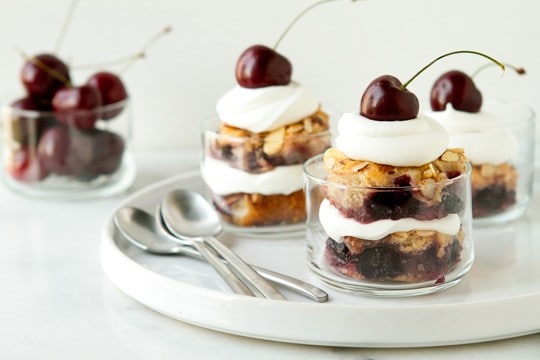 Speaking of summer, I can't believe it's almost over. Yeah, I'm totally being a bit of a bummer right now, but it's all Target's fault. As I did my first grocery shopping trip in nearly 3 weeks, I caught myself meandering through the back-to-school aisles. I'm a sucker for new pens and snazzy notebooks (yep, my taste in office supplies is the equivalent to that of a tween) and I got immediate anxiety. And then I realized, um hello, you quit work, you blog full-time, grab your new glittery chevron notebook and fill it full of recipe ideas.
To celebrate summer, I thought I'd bake cherry cobbler. I completely skipped the canned cherry pie filling because it's sweet cherry season, and I just love baking with those beauties. This is the time for making fresh cherry pie filling, cobbler, and homemade cherry limeades too.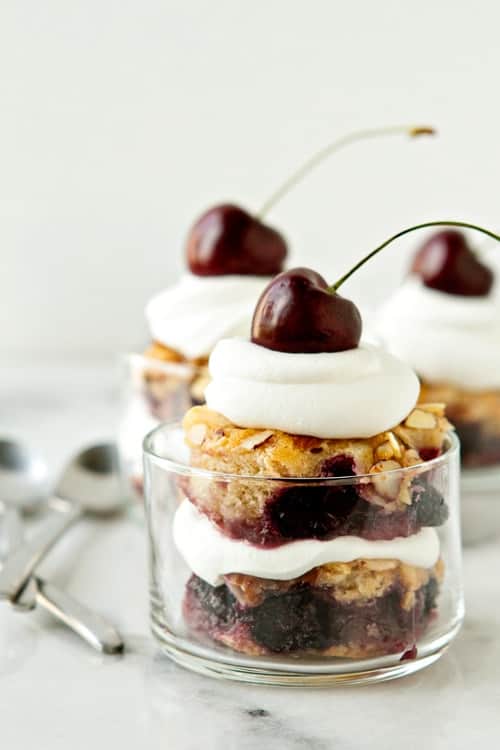 You still bake this cobbler up in a classic casserole dish, but it's not your typical biscuit-like cobbler. The batter bakes into a spongey cake consistency and it's the perfect compliment to the sweet cherries. Instead of scooping the cobbler into serving bowls, I decided to create my servings using a biscuit cutter. Then I layered them with whipped cream in small glass bowls.
I love taking classic recipes and serving them up in a unique way. And in my opinion, individual desserts are always the way to go. They're super cute and your guests will appreciate the built in portion control. Unless of course they're like my fam and just go in for seconds – and thirds!
Take advantage of all that fresh cherry season has to offer and bake this fresh cherry cobbler up immediately!
If you're looking for a Cherry Pitter, this is the one I use and love!
Fresh Cherry Cobbler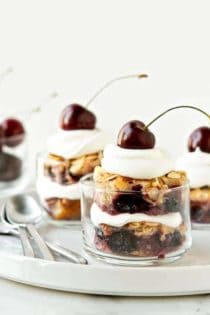 Ingredients:
1/2 cup unsalted butter, melted (I used Challenge Butter)
1 cup all-purpose flour
2/3 cup granulated sugar
1 teaspoon baking powder
1/2 teaspoon ground cinnamon
1 teaspoon pure vanilla extract
1/4 teaspoon almond extract
1 cup whole milk
3 cups pitted sweet cherries
1/2 cup granulated sugar
1 tablespoon all-purpose flour
1/2 cup slivered almonds
Directions:
Preheat the oven to 350°F.
Pour melted butter into a 9×13 inch baking dish.
In a medium bowl, stir together 1 cup of flour, 2/3 cup of sugar, baking powder, and cinnamon.
Add extracts to the milk and stir until combined.
Add the milk into the dry ingredients and stir until combined.
Pour the batter into the pan directly over the melted butter. Do not stir.
In a large bowl, add cherries, 1/2 cup of sugar and 1 tablespoon of flour and toss to coat cherries. Distribute the cherry mixture evenly over the batter. Sprinkle slivered almonds over the cherries. Do not stir.
Bake in preheated oven for 50 to 60 minutes, until golden brown, or a toothpick inserted into the cobbler comes out clean.
Notes:
Fresh Cherry Cobbler is best served the day it is made.
This Fresh Cherry Cobbler is not your typical biscuit-like cobbler. The batter bakes into a spongey cake consistency and it's the perfect compliment to the sweet cherries.
adapted from allrecipes
All images and text ©
Follow Jamie on Instagram. We love to see what you're baking from MBA! Be sure to tag @jamiemba and use the hashtag #mbarecipes!