A fruity twist on the classic Mojito cocktail using fresh honeydew melon and spicy ginger syrup!
It's finally summer ( I know, not technically) but, in Ohio…IT IS SUMMER. And, after that brutal winter that we had, I couldn't be more grateful! The sun has been shining and plants and flowers are in full bloom at last. I've been spending as much time outside as possible, doing two of my favorite things; gardening and yard work. We are moving soon, so we didn't want to plant a full garden, but I cannot go without growing tons of herbs and a few veggies in pots. No matter how big your garden or how much yard work you've done, there's nothing like rewarding yourself by making a refreshing and thirst-quenching cocktail.
I've done some refreshing cocktails in the past, but this one might take the cake! This honeydew ginger mojito puts a fresh twist on the classic drink. It's light, fruity, sweet, and a little spicy…what more could you ask for? Plus, the left over ginger syrup has endless possibilities! Try it in other cocktails, smoothies, add it to desserts, or just mix it with some soda water to make a light "ginger ale".
Next time you have friends over for cocktails, break out the blender and surprise them with this delicious summer beverage. This drink would also be lovely without alcohol. Leave the rum out for unique sparkling beverage that anyone can enjoy!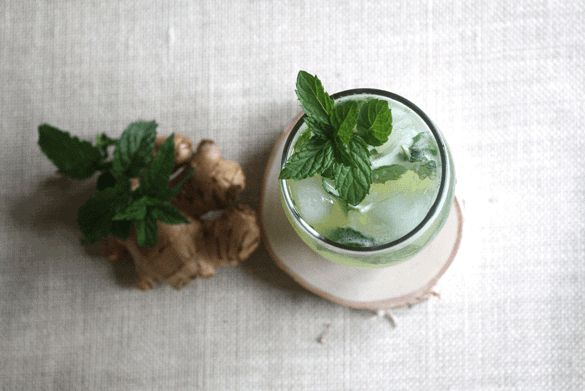 We hope you enjoy this cocktail recipe as much as we do! If you decide to make this or any other cocktail that we've shared with you, please stop back and let us know your experience in making the drink.
Snap a picture of your delicious creation and share it on our Facebook page! Have a cocktail or "mock-tail" idea you'd love to share? Follow us on Pinterest. We'd love to mingle with you!
Honeydew Ginger Mojito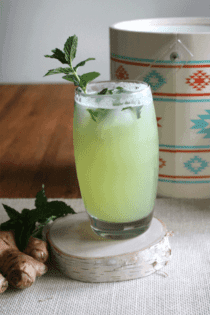 Ingredients:
Cubed Honeydew Melon (for one drink you'll need about a cup of melon)
1 1/2 oz Rum
Fresh Mint
Juice of Half a Small Lime
Soda Water
1/2-1 oz Ginger Simple Syrup
Ginger Simple Syrup
-Fresh Ginger
-1 cup Sugar
-1 cup Water
Directions:
Make the ginger syrup first. Heat equal parts water and sugar and a few small chunks of fresh ginger in a small saucepan on medium-low until the sugar is completely dissolved. Let cool..the longer you let the ginger sit in the syrup, the more intense the flavor will be.
In a blender or with an immersion blender, liquify the melon...add a little soda water to help the blending if you need to. I recommend blending an entire melon and keeping it fridge for up to a week!
Muddle a few mint leaves in the bottom of a cocktail shaker. Add rum, syrup, lime juice, and 1/2 cup of honeydew puree. Shake this mixture and pour into a tall glass over ice. Top off the cocktail with soda water and stir gently. Garnish with a sprig of fresh mint and enjoy!
Notes:
*This drink would also be great non-alcoholic! Leave the rum out for a sparkling honeydew drink.
All images and text ©
Follow Jamie on Instagram. We love to see what you're baking from MBA! Be sure to tag @jamiemba and use the hashtag #mbarecipes!