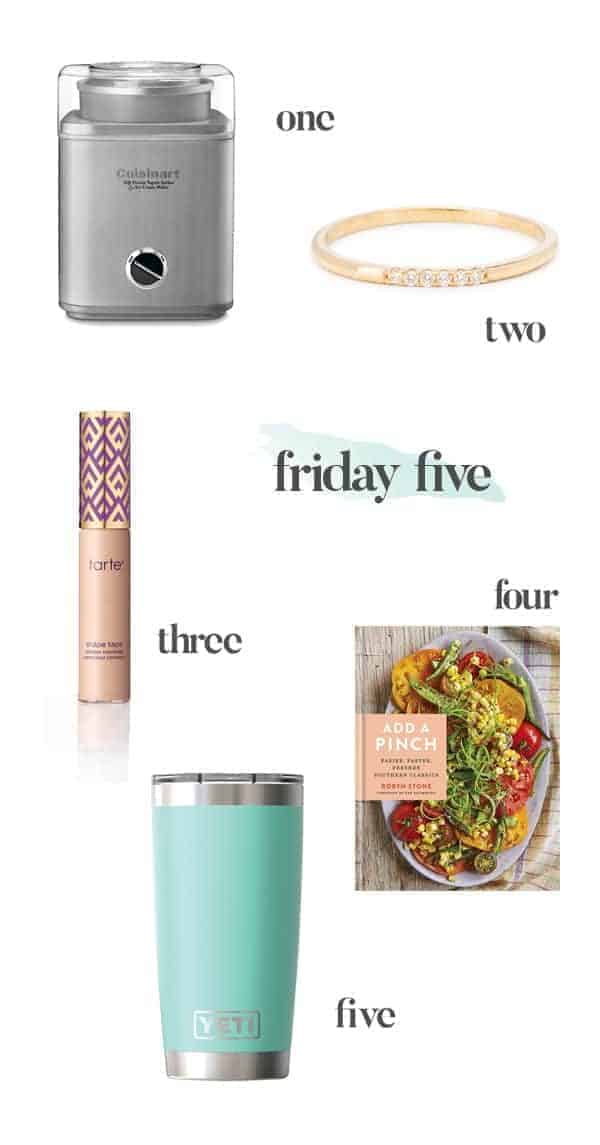 Happy Friday! If you're new around here, this post might look a little different than my typical recipe posts. And that's because it is.
Today, I'm getting back sharing my favorite things with you. Why? Well, because I consider you guys my internet friends and I really love sharing things with my friends.
There are so many things in my life that I use, wear, read, watch, on a regular basis and I honestly just want to start chatting with you about all of those things.
From cookbooks and appliances to lip gloss and gym gear, I'm going to give you a mini review on the products I'm loving.
And if you're just here for the recipes, don't you worry because these posts will be in addition to my weekly recipes and will only occur a couple times a month.
Cuisinart Ice Cream Maker – I don't know what the weather is like in your neck of the woods, but it is crazy hot here in Ohio. Couple the heat with the humidity and all I want to eat is ice cream.
If you've never made homemade ice cream, it seriously couldn't be easier. This Cuisinart Ice Cream Maker will churn frozen yogurt, sorbet, and delicious ice cream that's simple enough to make any day of the week.
If you have kiddos, they'll pouring in the ice cream base and mix-ins and watching it churn!
Mejuri Diamond Lines Ring – Eric bought this ring for me last Christmas and I have been obsessed with it ever since. It's super thin (1.3mm) which makes it perfect for stacking with other rings. I typically wear this little lovely on my left ring finger in place of my engagement ring because my wedding set has become a little too loose.
I'm always amazed at how many compliments I get on this piece, but I think people are really drawn to its simplicity. I have numerous items from Mejuri and I'm in love with every single one of them.
TARTE Shape Tape Concealer – I know the term life-changing gets thrown around a lot, but seriously, this concealer is just that! I picked it up after seeing my friend Shelly from Cookies and Cups rave about it on Instagram and I haven't looked back.
I'm pretty much obsessed with make-up, so I have tried countless concealers and this one is definitely my fave. It covers like a dream, it doesn't crease under my eyes and it stays put all day long.
It's a game-changer, so if you've been on the hunt for a new concealer, pick this one up immediately. I promise, you'll thank me later.
Add a Pinch: Easier, Faster, Fresher Southern Classics – I am always in awe of how talented my blogging friends are – especially when they can create amazing cookbooks loaded with incredible recipes while still still running a blog and household.
This cookbook from Robyn of the blog Add A Pinch is brimming with the most delicious Southern inspired recipes. If you love Southern cooking, you should definitely pick this one up.
And then flip to page 199 and make her Strawberry Shortcakes with Sweet Cream Cheese Biscuits! 😍
YETI Rambler 20 oz. Tumbler – Please tell me that I am not the only one that becomes obsessed with drinkware!
We have numerous YETI tumblers and several knock-off brands, but this beauty is by far my favorite. The seafoam color just makes me happy and I love the way it fits perfectly in my hand and my car's cup holder!
This cup is with me about 24 hours a day and I can't rave about it enough.
Now, it's your turn! Tell me about all the things you're loving in the comment section below!