You might think that being out of school has left me with oodles of time to sit around and dream of cupcake recipes and maybe eat bon bons. Unfortunately, that is seriously not the case.
Between getting the house back into my OCD standard, planning surprise birthday parties for my best friend, traveling and having a serious cold, I honestly don't know I have time for a full time teaching career on top of the rest of life's to-do list.
The other day I mentioned we've taken the plunge and purchased a Big Green Egg. While yes, it makes fabulous smoked and grilled meats, my favorite feature by far has been that cooking on our big green friend means I don't have a huge mess in the kitchen to clean up.
So this week, we've been planning our meals around what we can cook on the Egg. It might surprise you, but our favorite of the week has been pizza!
I have a go-to olive oil pizza dough that requires rising and makes a ton of dough. However, I'm a big fan of the Become A Better Baker Facebook page, and when their recommendation for a grilled pizza with recipe came up in my feed, I knew we were on to something.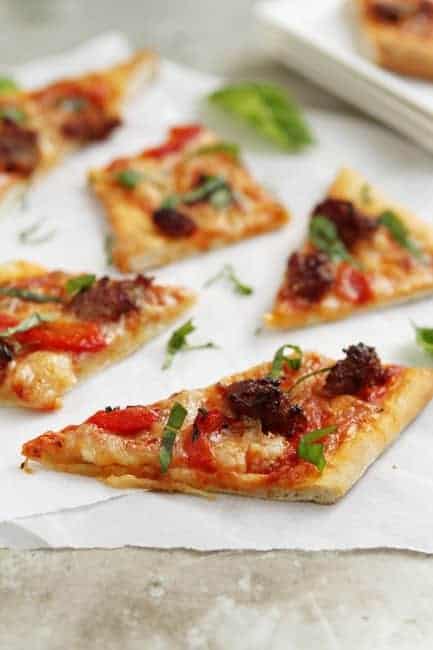 While we were out running errands, we picked up the recommended ingredients from Become A Better Baker; simple stuff like a spare bottle of extra virgin olive oil (I was running low) and an envelope of Fleischmann's Pizza Crust Yeast.
It was news to me that there's a yeast especially for pizza dough, but I have to tell you, it's pretty darn cool. The yeast is formulated with special dough relaxers that mean the dough doesn't need rising time, nor does it snap back or shrink when you try to roll it out.
Grilled pizza dough has another level of deliciousness that I just can't explain. Grilling adds layers of flavors to most foods, from fruit to your favorite garlic bread, so I don't know why it didn't occur to me that pizza dough would be any different. Plus, it's summer which means it can get crazy hot, so not having to crank up the oven to it's highest setting is always an added bonus.
We topped our pizzas with roasted red peppers and spicy sausage because we like things hot around here, but I can see a simple ham and mushroom being equally tasty.
Make sure you check out the Become A Better Baker resource for all your baking questions!
Grilled Pizza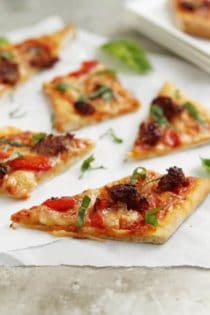 Ingredients:
For the Crust
3-1/2 to 4 cups all-purpose flour
1 envelope Fleischmann's® Pizza Crust Yeast
1 tablespoon sugar
1-1/2 teaspoons salt
1-1/3 cups very warm water (120° to 130°F)*
1/3 cup extra virgin olive oil
Additional flour for rolling
For the Toppings
pizza sauce
1/2 pound spicy Italian sausage, cooked through, crumbled and drained
2 cups shredded mozzarella cheese
1/2 cup roasted red peppers, drained and sliced
fresh basil
Directions:
Start charcoal fire or preheat gas grill to medium-high heat.
Combine 2 cups flour, undissolved yeast, sugar and salt in a large bowl. Add very warm water and oil; mix until well blended, about 1 minute. Gradually add enough remaining flour to make a soft dough. Dough should form a ball and will be slightly sticky. Knead on a floured surface, adding additional flour if necessary, until smooth and elastic, about 5 minutes.
Divide dough into 8 portions. Pat or roll dough on a well-floured counter to about 8-inch circles; they do not need to be perfect.
Using hands, lift each crust carefully and place on grill. Cook for 3 to 4 minutes until bottom is lightly browned and top appears set. Using long handled tongs, remove crust from grill, grilled side up, to a platter or baking sheet.
Lightly add sauce and top the grilled side of each pizza crust. (Excess sauce or toppings makes the pizza hard to handle). Add your choice of toppings. Repeat with remaining pizzas.
Carefully slide each pizza onto the grill. Cook an additional 3 to 4 minutes until bottom of crust is browned and cheese is melted. Remove from grill, add fresh basil and serve immediately.
Notes:
If you don't have a thermometer, water should feel very warm to the touch.
To knead the dough, add just enough flour to the dough and your hands to keep the dough from sticking. Flatten dough and fold it toward you. Using the heels of your hands, push the dough away with a rolling motion. Rotate dough a quarter turn and repeat the "fold, push and turn" steps. Keep kneading dough until it is smooth and elastic. Use a little more flour if dough becomes too sticky, always working the flour into the ball of dough.
Make Ahead: Dough (but NOT individual crusts) may be made up to 24 hours in advance and stored covered in the refrigerator. Punch down and roll out just before grilling. OR, pizzas may be partially grilled ahead of serving. Here's how: Grill one side of the pizza crust. Cool. Tightly wrap and refrigerate until serving time. Top pizzas with desired toppings (on grilled side) and finish grilling on preheated grill.
Dough sticking to grill? Make sure grill has been preheated and cleaned. To prevent sticking, drizzle oil over paper towel and carefully wipe over grates.
We used a pizza stone for our pizzas and I'll be sharing that method with you a little later in the summer.
More of a visual learner? Check out the Grilled Pizza video on the Fleischmann's website for a quick tutorial.
Follow Jamie on Instagram. We love to see what you're baking from MBA! Be sure to tag @jamiemba and use the hashtag #mbarecipes!
DISCLOSURE
This is a sponsored post written by My Baking Addiction on behalf of Fleischmann's® Yeast and Become A Better Baker™. The views and opinions expressed on My Baking Addiction are purely my own.