Valentine's Day is almost upon us. Most of you are probably reaching for that Red Velvet Cupcake Recipe, a simple Chocolate Cupcake or maybe even getting a little playful with some Red Velvet Puppy Chow, but don't forget about a classic favorite–the Oreo.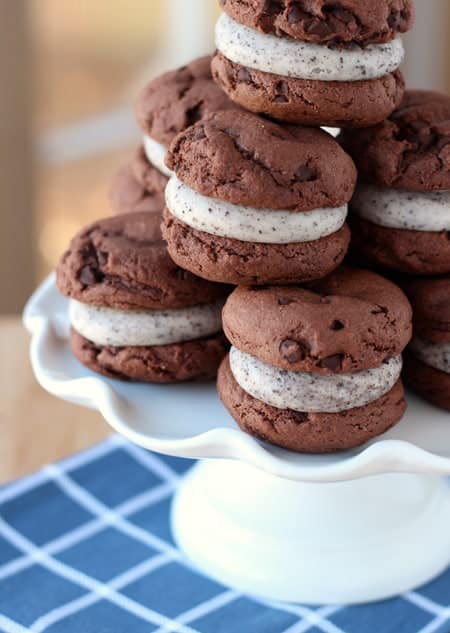 We all have our own way of eating Oreos. Cream first, dunking in milk, just going in for the kill… but I prefer to drop a few in a mug of milk and devour with a spoon. It sort of turns into Oreo cereal, but it's absolutely delicious!
But these aren't just any Oreos, these are The Ultimate Oreos with soft fudgey cookies and a cookies & cream filling that will make you fall in love (or make someone fall in love with you).
Ultimate Oreos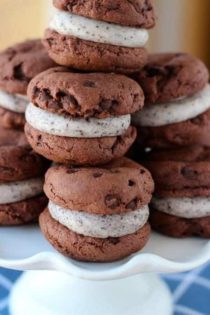 Ingredients:
Chocolate Cake Mix Cookies:
1 Box Devil's Food Cake Mix (I prefer the Pillsbury mixes)
2 eggs
1/3 cup oil
2 tablespoons brown sugar
1 cup mini chocolate chips
Oreo Filling:
6 oz. cream cheese
6 tablespoons butter, softened
2 teaspoons vanilla extract
2-3 cups powdered sugar
8 Oreos, finely crushed in a food processor
Directions:
1. Preheat oven to 350 degrees and line pans with parchment paper.
2. Combine cake mix, eggs, oil and brown sugar. Fold in mini chocolate chips. Batter will be thick.
3. Place small dough balls (about the size of 2 teaspoons) on cookie sheets 3 inches apart. Use your fingers to gently press the dough balls down to make them look like little "disks" rather than mounds of dough. Cake mix cookies tend to bake up tall, so we flatten them a little.
4. Bake for 6-9 minutes depending on how fudge-y or cake-y you want them to be.
5. Remove from pans and let cool.
6. Oreo Filling: Beat cream cheese and butter until smooth. Add vanilla extract and slowly add in powdered sugar until your reach your desired consistency. Fold in crushed Oreos. (I like to sift my crushed Oreos to make sure I don't accidentally put in a large chunk of cookie.)
7. Frost the bottoms of half the cookies, then take the unfrosted cookies and place them on top to "sandwich" them together!
Notes:
Note: Place in a tupperware and let set in the fridge. This stiffens the filling so that when you bite into them, the frosting doesn't gush out the sides. They taste DIVINE after being in the fridge for at least 20 minutes.
All images and text ©
Follow Jamie on Instagram. We love to see what you're baking from MBA! Be sure to tag @jamiemba and use the hashtag #mbarecipes!