The blogosphere, Pinterest, and Etsy have been full of adorable Autumnal and Halloween decorating ideas for a while now, but sometimes you discover something that you just can't Pin and move on from. You have to put that pin into action! After Jamie stumbled upon these adorable Pumpkin and Ghost Jars from The TomKat Studio, we just had to recreate them.
Using black adhesive vinyl, colorful chocolate candies, and cute tags, we were able to transform some of our favorite Weck Jars into festive candy favors worthy of any Halloween celebration or display.
What You Need
glass jars (size is up to you)
black adhesive vinyl OR black acrylic paint, a black marker and a small paint brush
white, orange and green candies (we used Sixlets from Party City)
tags and ribbon
How To Assemble
1. Make sure your jars are clean and completely dry.
2. If using adhesive vinyl, you can cut the shapes using an electronic cutting tool such as the Silhouette Cameo (see below for details), or cut the simple shapes with scissors. Before adhering your vinyl to the glass, I recommend playing around with the placement first – that way you don't have to scrape it off or waste the vinyl if you're not happy with the positioning.
3. If using acrylic paint, first sketch the outline of the shapes onto your jars using a black marker. Use a small paint brush to fill in the shapes with the black acrylic paint. Allow the paint to dry completely.
4. Fill your jars with the candy of your choice. We used white, orange and green Sixlets that we purchased from Party City, but gumballs would be fantastic as well. Both the Sixlets and the gumballs come in a variety of individually packaged colors and we think they're just perfect for this project.
5. Finish your jar with festive, Halloween ribbon and a cute tag.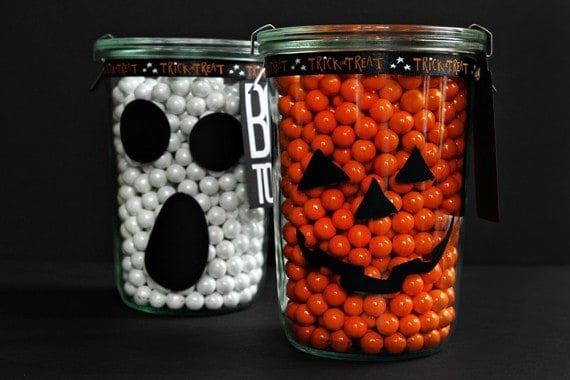 Notes
– We used 3/4 Liter Mold Jars by Weck for this project; however, any jar will work just fine.
– We created our shapes and tags using the Silhouette Cameo. You can download them by searching for the following key words within the Silhouette online store.
Silhouette Shape Details
Tags: Tag by Lori Whitlock (Design id #11657); Boo To You by k.becca (Design id #32748)
Ghost: bu KI Memories (Design id #21458)
Frankenstein: by Loni Harris (Design id #4864)
Pumpkin: by Jamie Koay (Design id #31936)
We hope you enjoy this Halloween craft as much as we do. If you decide to create this Halloween Candy Jar project at home, we'd love to see the finished product. Snap a picture and share it on our Facebook page! Have a craft idea you'd love to share – we'd love to mingle with you on Pinterest!