Hey MBA readers! I'm happy to introduce you to the lovely Lindsay White from Olive Tree Handmade. Lindsay does a bit of behind the scenes work here on My Baking Addiction, so I thought it was about time that I officially introduce you to her. She's super talented and has some fantastic holiday inspiration coming your way in the next few months, so you'll definitely want to stay tuned. Welcome, Lindsay!
–
Hi Everyone! I'm Lindsay from Olive Tree Handmade and, I'm super excited that Jamie asked me to do guest holiday craft posts! I design and create jewelry for my shop on Etsy and, think of myself as a fairly crafty person so I thought this would be really fun. Whenever I'm on Pinterest I see hundreds of D.I.Y. crafts that look amazing and so easy to make but, how many of us actually go through with it? I found two Halloween projects that looked like they'd be cool to try: Chevron Pumpkins by MySweetSavannah (I love chevron everything) and, Skull Treat Boxes by Martha Stewart.
Chevron Pumpkins
For this project you will need:
pumpkins: real or fake ( foam or plastic ones cost a bit more but, will last you more than one season!)
painter's tape
acrylic craft paint
small paint brushes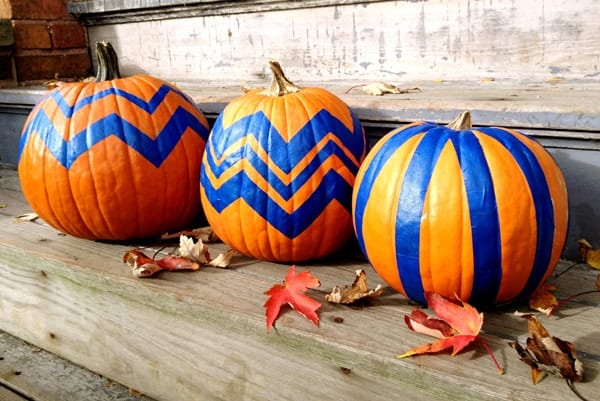 I already had real pumpkins at home so I decided to use those for this project. Cut the painters tape in short strips and create a zig zag around the top of the pumpkin. I cut the tape in half to create the thinner stripes. I found this to be harder than it looks! Since the pumpkins were real and weren't symmetrical, it was pretty difficult keeping my zig-zags even (on one of the pumpkins I decided to switch it up and do stripes). After all the tape is in place, press it down really well to make sure there aren't bubbles. Paint your pumpkins! Let the paint dry completely and remove the tape. THERE WILL BE DRIPS. Don't worry, since you've used acrylic craft paint you can scrape them off! Touch up any messy areas with a little of the paint.I thought that the finished product was so cool and unique that it was well worth the time.
*You can't really tell from the photo but, I painted the stems with gold glitter paint to add some sparkle…and because glitter paint is amazing.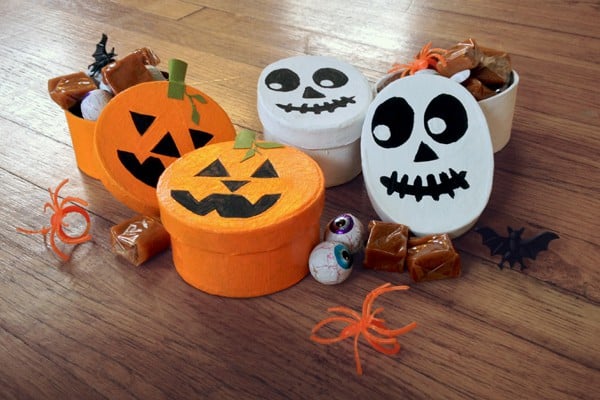 Skull Treat Boxes
For this project you will need:
egg-shaped paper mache boxes, I also got round ones to make jack-o-lantern treat boxes
acrylic craft paint
small paint brushes
These skull treat boxes were too cute to not make! The local craft supplies store did not have the same egg-shaped treat boxes that are shown on the Martha Stewart website so, I improvised with the oval and round boxes that were available. Paint the boxes and let them dry completely. Next you can either stencil on or free-hand (I did this lightly with a pencil) the faces. Using a very small paint brush fill in the lines. For the jack-o-lanterns I used some green cardstock for the stems and leaves. Final step: stuff with as many treats as possible! These boxes couldn't be easier to make and the final product is adorable!