Happy Holidays to all of my blogging buddies and wonderful readers! I wish all of you a Happy New Year filled with peace, love and joy!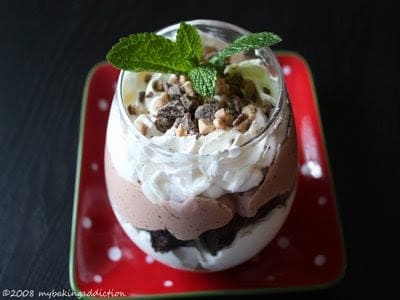 Well, all the gifts are unwrapped, the mess is cleaned up and now we relax! It truly amazes me all the time that we devote to shopping, wrapping, decorating and cooking for everything to be over in the blink of an eye. We have about eighty bags of trash and more cookies than we could eat in two months, but all in all, it was a very nice Christmas morning. I got
this Calphalon Knife Set
and this
additional knife
from the boyfriend and could not be happier! Does it mean that I am getting old because I am uber pumped about new knives for Christmas???

Last night we had family over for Christmas Eve dinner, for appetizers we had shrimp cocktail, asiago cheese spread with french bread and spinach dip with pumpernickel bread. For dinner, I made
Prime Rib
, mashed potatoes,
green beans
, rolls and the trifle pictured above. All of my camera gear is packed up to make some space in the dining room so these photographs were taken in front of the window with the crappy winter sunlight we get here in Ohio.

I have been making this trifle for years, but never blogged it because I usually take it to pot lucks. Whenever I have a work related potluck it basically means that I am running around like a crazy woman at 5:45 am trying to whip this sucker together. Obviously my lack of preparation leads to no pictures. I may be slightly obsessive compulsive, and very anal, but I am a HUGE procrastinator…I always tell people I work better under pressure. This year, I decided to make mini trifles in
these
inexpensive stemless red wine glasses I bought at the Libbey Glass Outlet. I think they turned out super cute, although the amount of trifle in the glass is more than the average human being can handle in one sitting.

This trifle is comprised of some seriously easy components that some of you may shun from your kitchen, but crowds seem to love this no matter how easy and preservative laden it is.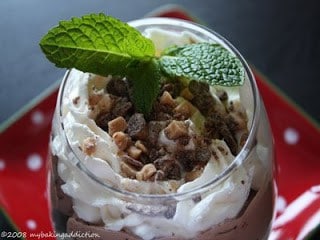 Chocolate Toffee Trifle
Adapted from allrecipes
INGREDIENTS
1 (19.8 ounce) package brownie mix (I used Pillsbury Family Sized Chocolate Fudge)
1 (3.9 ounce) package instant chocolate pudding mix
1/2 cup water
1 (14 ounce) can sweetened condensed milk
1 (8 ounce) container frozen whipped topping, thawed
1 (12 ounce) container frozen whipped topping, thawed
1 bag Heath Bar Bits (I used about half the bag)

DIRECTIONS
Prepare brownie mix according to package directions and cool completely. Cut into 1 inch squares.
In a large bowl, combine pudding mix, water and sweetened condensed milk. Mix until smooth, then fold in 8 ounces whipped topping until no streaks remain.
In a trifle bowl or glass serving dish, place half of the brownies, half of the pudding mixture, toffee bits and half of the 12 ounce container of whipped topping. Repeat layers. Sprinkle toffee bits onto top layer for garnish. Refrigerate 8 hours before serving.