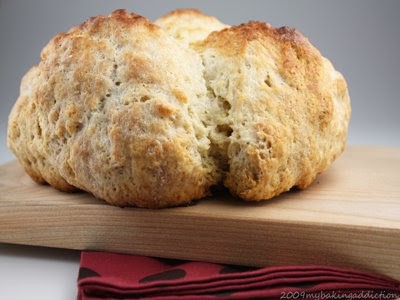 Happy St. Patrick's Day!!! I am a wee bit Irish; therefore, I wanted to throw together a St. Patrick's Day inspired post. Last night I had a little time on my hands, so I thought I would whip together some Irish Soda Bread and some festive cupcakes. I have never made Irish Soda Bread before, but after browsing allrecipes, I realized this type of bread is super easy. The dough was mixed and in the pan within ten minutes; the top browned up beautifully and the aroma was intoxicating. Now let me keep it real here for minute by saying I have never tasted Irish Soda Bread before, so I cannot claim that this recipe or taste is authentic. What I can claim, is that this is one easy and delicious loaf of bread! So if you're feeling festive…raid your pantry and get to baking! Click here for the recipe!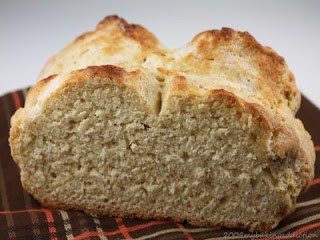 Now onto dessert…These cupcakes are the chocolate cake recipe I have used many times, but this time I added a bit chocolate ganache to center to jazz it up! I am starting to think I should get paid for singing the praises of this chocolate cake recipe, but I have no idea who in the hell would pay the bill. I topped the cupcakes with dyed Buttercream Dream frosting and tossed on some sprinkles! These are really truly amazing for how simplistic they are.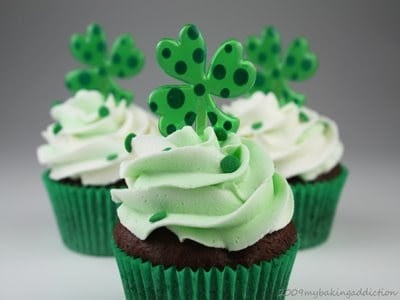 Buttercream Dream Icing
Ingredients
1 stick salted butter – room temperature
1 stick unsalted butter – room temperature
1 cup shortening
1 tablespoon Clear Vanilla extract
2 pounds confectioner's sugar (powdered sugar, 10x)
4-6 tablespoons very cold milk
Directions
Cream the butter and shortening in the bowl of an electric or stand mixer. Add the clear vanilla extract and combine well. Begin adding in the sugar and mixing thoroughly after each addition. After all of the sugar has been added and mixed thoroughly, begin adding the very cold milk… one tablespoon at a time, combining very well after each addition (mixer on medium-high to high speed) until you reach the desired consistency.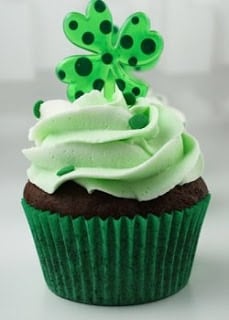 I hope these recipes make your day deliciously addictive and of course… a little more Irish! My

TwD

post will be coming up later this week!
I have received several emails asking where I get my bright cupcake liners…they are from
confectionaryhouse

.com
. I first saw these featured on
Bakerella

's blog
and quickly fell in love

!