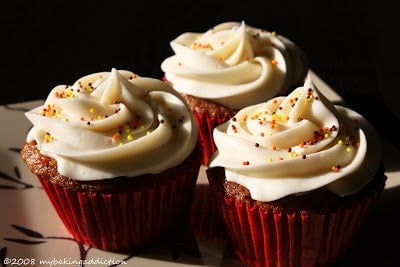 If these photos look a little different, it's because I decided to go back to the basics. Honestly I did this because my house was a freaking mess due to Thanksgiving and I refused to clutter it up anymore with a bunch a camera equipment. I missed the basic level of food photography…no fancy lights, no sweep, no tripod…just me, my camera, and a window. Now onto the first of quite a few turkey day treats…carrot cake.

There is a restaurant in my area called, J. Alexander's and they have the most delicious carrot cake that has ever crossed my lips. It's moist, spicy and delectable. I have never made carrot cake before, but I figured I would give it a try. In an attempt to duplicate the carrot cake from J. Alexander's, I hit up google looking for a copycat recipe, but I came up empty handed, so I ventured over to the always dependable allrecipes. Through allrecipes, I found a plethora of recipes, but ended up settling on the one recipe that had a ton of excellent reviews. From there I adapted the recipe according to the reviews and my personal taste. The end result was one freaking delicious carrot cake!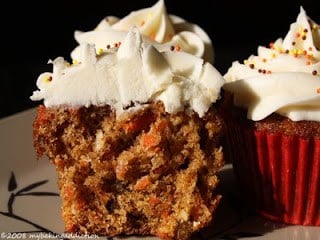 Ingredients
4 eggs
1 cup vegetable oil
1 cup white sugar
1 cup packed light brown sugar
2 teaspoons vanilla extract
2 cups all-purpose flour
2 teaspoons baking soda
2 teaspoons baking powder
1/2 teaspoon salt
3 teaspoons ground cinnamon
1/4 teaspoon nutmeg
3 cups grated carrots
1 cup chopped pecans
3/4 shredded sweetened coconut
3/4 raisins
1 small can crushed pineapple, drained
Directions
1. Preheat oven to 350 degrees F (175 degrees C).
2. Grease and flour a 9×13 inch pan. (I used muffin tins)
3. In a large bowl, beat together eggs, oil, white sugar and vanilla. Mix in flour, baking soda, baking powder, salt, nutmeg and cinnamon. Stir in carrots and pineapple. Fold in pecans, raisins, and coconut. Pour into prepared pan.
4. Bake in the preheated oven for 40 to 50 minutes, or until a toothpick inserted into the center of the cake comes out clean. Let cool in pan for 10 minutes, then turn out onto a wire rack and cool completely. I made cupcakes so baked these for 19-20 minutes.

Cream Cheese Icing from justbaking
2 (8) ounce package cream cheese, softened
1 stick butter, softened
2 lbs. confectioners' sugar
2 teaspoons vanilla extract
Using a mixer, blend all of the ingredients together until smooth and creamy. Spread cream between layers and on top of cake.