Well as you may have noticed, My Baking Addiction has a whole new look and I am really excited to post my first recipe on the new site. A couple of months ago, I decided that I wanted to move from Blogger to WordPress and give my blog a little face lift. With the help of my fabulous web designer, Barb, of Kinetic Webs I think we have created something to be proud of! It was my hope to make the site more sophisticated, modern and user friendly and with a month of hard work, I think we achieved just that! If you have a few minutes, click around the site and check out some of the new features such as a rocking recipe index, a FAQ page, a recipe print function and my Amazon store which is full of all my kitchen and photography essentials. I hope ya take a look around and like what you see! Oh and I wanted to also let you know how freaking amazing WordPress is…if you are thinking about starting a blog, definitely use WordPress. I continue to be amazed by the power, plugins and functionality of this platform.
Now for my very first recipe…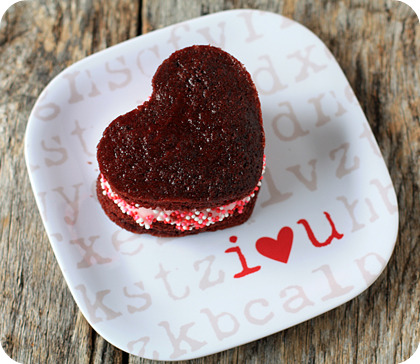 With Valentine's day quickly approaching, I thought is was time to start baking some holiday themed scrumptious treats! Although I am the queen of procrastinating I actually got my butt in gear and was able to get a few recipes baked & photographed before February…The first lovely treat (pun intended) is for Heart Shaped Red Velvet Whoopie Pies. I saw something similar to these advertised in a magazine for a ridiculous amount of money and thought I could whip these together at home for a much less. I picked up Reynolds disposable heart shaped foil cups from Target and hit the kitchen that evening. These Red Velvet Whoopie Pies turned out super cute and prompted text messages from Brian's co-worker praising me as a culinary goddess. Okay… maybe he didn't use the term "culinary goddess" I may have tossed that in for effect; nonetheless, they were fabulous and enjoyed by all!

Red Velvet Whoopie Pies
Ingredients:
For the Whoopie Pies
1 tablespoon unsalted butter
1 cup cake flour
1/3 cup unsweetened cocoa (not Dutch process)
1/2 teaspoon salt
2/3 cup canola oil
3/4 cups granulated sugar
1 large egg
2 TBS red food coloring (I used gel dye until I achieved the desired color)
1 teaspoons vanilla
1/2 cup buttermilk
1/2 teaspoon baking soda
3/4 teaspoon white vinegar
For the Cream Cheese Icing
1 (8) ounce package cream cheese, softened
3 tablespoons butter, softened
1 lb confectioners' sugar
1 teaspoons vanilla extract
Directions:
For the Whoopie Pies
1. Preheat oven to 350 degrees. Place spray foil liners with non-stick cooking spray and place on a cookie sheet.
2. Whisk cake flour, cocoa and salt in a bowl.
3. Place oil and sugar in bowl of an electric mixer and beat at medium speed until well-blended. Beat in egg. With machine on low, very slowly add red food coloring. (Take care: it may splash.) Add vanilla. Add flour mixture alternately with buttermilk in two batches. Scrape down bowl and beat just long enough to combine.
4. Place baking soda in a small dish, stir in vinegar and add to batter with machine running. Beat for 10 seconds.
5. Place 1 tablespoon of batter per foil heart pan
6. Place in oven and bake until a cake tester comes out clean, 10-14minutes. Let cool in pans 10 minutes. Then remove from pans, and cool completely before frosting.
7. Slice the cakes in half and frost the inside with cream cheese frosting. Sandwich the cakes together and decorate the sides with Valentine's themed sprinkles. I left a few of the cakes whole and sandwiched them together, this made for some BIG whoopie pies!
For the Cream Cheese Icing
Using a mixer, blend all of the ingredients together until smooth and creamy and spread between layers.
This recipe for The Red Velvet cake is adapted from The New York Times
All images and text ©
Follow Jamie on Instagram. We love to see what you're baking from MBA! Be sure to tag @jamiemba and use the hashtag #mbarecipes!
[pinit]