Hidden Berry Cream Cheese Torte…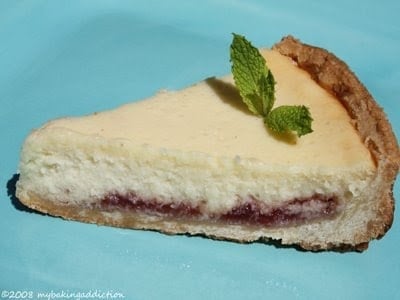 Today's recipe is a really delicious spin on a traditional cheesecake, called a Hidden Berry Cream Cheese Torte. This dessert has a wonderful cookie crust topped with a velvety layer of cream cheese and cottage cheese. Once you slice into the torte you discover a lovely layer of berry preserves tucked underneath the cream cheese layer. The berry preserves provides a delectable amount of sweetness that balances this dessert perfectly. A food processor is sort of essential when bringing this dessert together and through the process, I discovered I need a larger one. Although the recipe requires multiple steps, it is quite easy and well worth the time. I will definitely make this again, but next time will add a little more preserves and probably experiment with the flavor I use. I found that this tasted best after sitting in the refrigerator overnight…giving the flavors a chance to develop. All in all, this Dorie Greenspan recipe was a hit with all that tasted it! If you do not have Dorie's Book, Baking:From My Home to Yours, I highly suggest you check it out! This recipe can also be found by clicking here. Enjoy!
This post may contain affiliate links. We are a participant in the Amazon Services LLC Associates Program, an affiliate advertising program designed to provide a means for us to earn fees by linking to Amazon.com and affiliated sites.