a holiday classic…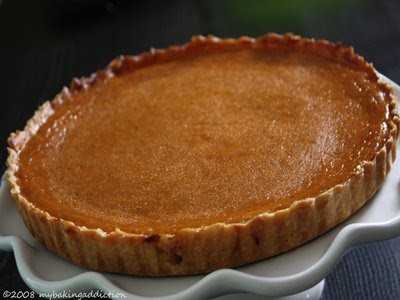 It seems as though most people either love or hate pumpkin pie, I happen to fall into the middle of that spectrum…I can take it or leave it. Honestly, the only way I can take it is when it's slathered in Cool Whip! However, since it's a holiday classic, it usually graces my dinner table at some point or another during the holiday season. In my
Dutch Apple Pie
post, I confessed that I really suck at pie crusts, so this "pie" was also prepared in a tart pan…does that make it a pumpkin tart? I have always used the recipe off
Libby's Pumpkin
can because it is easy and gets great reviews. If you have any other delicious pumpkin pie recipes, please let me know…I would love to try another version.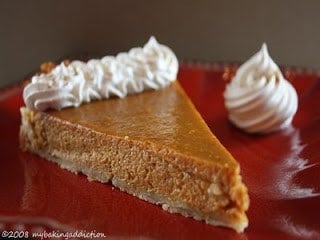 Ingredients
3/4 cup granulated sugar
1 teaspoon ground cinnamon
1/2 teaspoon salt
1/2 teaspoon ground ginger
1/4 teaspoon ground cloves
2 large eggs
1 can (15 oz.) Libby's 100% Pure Pumpkin
1 can (12 fl. oz.) Nestle Carnation Evaporated Milk
1 unbaked 9-inch (4-cup volume) deep-dish pie shell
Whipped cream (optional)
Directions
MIX sugar, cinnamon, salt, ginger and cloves in small bowl. Beat eggs in large bowl. Stir in pumpkin and sugar-spice mixture. Gradually stir in evaporated milk.
POUR into pie shell.
BAKE in preheated 425° F oven for 15 minutes. Reduce temperature to 350° F; bake for 40 to 50 minutes or until knife inserted near center comes out clean. Cool on wire rack for 2 hours. Serve immediately or refrigerate. Top with whipped cream before serving.
Notes
1 3/4 teaspoons pumpkin spice may be substituted for the cinnamon, ginger and cloves; however, the taste will be slightly different. Do not freeze, as this will cause the crust to separate from the filling.
Up Next…Peppermint Bark
This post may contain affiliate links. We are a participant in the Amazon Services LLC Associates Program, an affiliate advertising program designed to provide a means for us to earn fees by linking to Amazon.com and affiliated sites.