I am so excited about this Holiday Recipe Exchange because let's face it; I am a big fan of butter.
It's actually quite comical how much butter I store in my refrigerator and even more ridiculous how much butter I use for the recipes on My Baking Addiction.
I attended BlogHer Food in October and won a year's supply of butter from Kerrygold. Needless to say, I was pretty thrilled, what could be better for a baker than a year's supply of amazing Kerrygold Butter?
For this week's Holiday Recipe Exchange I wanted to make something that truly showcased the flavor of this delectable Irish butter. So, I turned to Paula Deen and chose her recipe for Pumpkin Butter Cake. Really, who does butter better than Paula? This Pumpkin Butter Cake is simple, but the flavor is truly irresistible, it's like a more delicious version of traditional pumpkin pie. Top this Pumpkin Butter Cake with whipped cream and chocolate curls and you'll definitely show up the mundane pumpkin pie that always makes an appearance on Thanksgiving.
Do you have an affinity for high quality butter and cheese? If, so definitely keep reading because the gift basket from Kerrygold is quite stellar!
How To Participate
For a chance to win a $150 Kerrygold Cheese and Butter Gift Basket:
Write and post a recipe on your blog featuring Butter.
Include "Come join the fun at the My Baking Addiction and GoodLife Eats Holiday Recipe Swap sponsored by Kerrygold." in your blog post.
Add your link to the widget on either GoodLife Eats or My Baking Addiction (we have the same widget code, so only add it on one site).
Submit your post before Nov. 27, 11:59 AM. On Nov. 28, 12:00 AM the widget will switch to voting mode. Be sure to encourage your readers to vote for you and/or vote for your favorites.
Anyone can participate in the link up, but the prize will ship to US residents only.
More detailed info, including buttons for your posts are available here.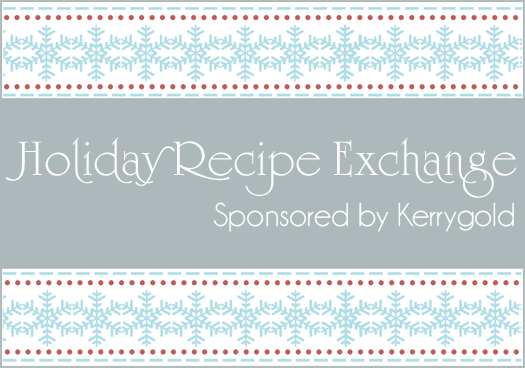 Link Up Your Recipes:
This Week's Prize:
$150 Kerrygold Cheese and Butter Gift Basket (1 winner), provided by Kerrygold.

Recipe Theme Schedule: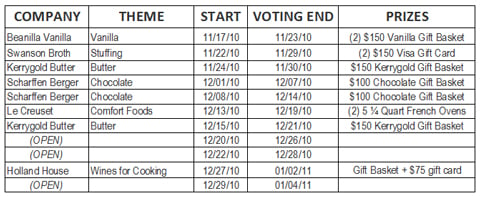 How To Promote:
Help us spread the word by letting your friends, family, and followers know about the contest. Email, Facebook, Tweet, Stumble…anything you want to do to promote this post is welcome.
Sample Tweet 1: Join @GoodLifeEats and @BakingAddiction for a Holiday Recipe Exchange. See how you can participate (and WIN) here: http://bit.ly/9YCFgA Pls RT
Sample Tweet 2: Enter BUTTER recipes in @GoodLifeEats & @BakingAddiction Holiday Recipe Exchange 4 chance @ $150 @kerrygoldusa gift http://bit.ly/gmn9SG
Sample Tweet 3: Have a winning BUTTER recipe? Sharein @GoodLifeEats & @BakingAddiction Holiday Recipe Exch 4 chance @ $150 GIFT http://bit.ly/gmn9SG
Sample Tweet 4: Vote 4 my BUTTER recipe in @GoodLifeEats & @BakingAddiction Holiday Recipe Exch so I can win $150 @KerrygoldUSA basket http://bit.ly/gmn9SG
Pumpkin Butter Cake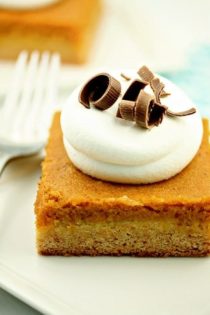 Ingredients:
For the Cake:
1 (18 1/4-ounce) package yellow cake mix
1 egg
8 tablespoons butter, melted
For the Filling:
1 (8-ounce) package cream cheese, softened
1 (15-ounce) can pumpkin
3 eggs
1 teaspoon vanilla
8 tablespoons unsalted butter, melted
1 (16-ounce) box powdered sugar
1 teaspoon cinnamon
1 teaspoon nutmeg
Directions:
1. Preheat oven to 350 degrees F.
2. Combine the cake mix, egg, and butter and mix well with an electric mixer. Pat the mixture into the bottom of a lightly greased 13 by 9-inch baking pan.
3. To make the filling: In a large bowl, beat the cream cheese and pumpkin until smooth. Add the eggs, vanilla, and butter, and beat together. Next, add the powdered sugar, cinnamon, nutmeg, and mix well.
4. Spread pumpkin mixture over cake batter and bake for 40 to 50 minutes. Make sure not to overbake as the center should be a little gooey.
5. Serve with fresh whipped cream.
from Paula Deen via Food Network
All images and text ©
Follow Jamie on Instagram. We love to see what you're baking from MBA! Be sure to tag @jamiemba and use the hashtag #mbarecipes!