VIRTUAL HOLIDAY RECIPE EXCHANGE
Hosted by Jamie Lothridge & Katie Goodman
Sponsored by Beanilla, Scharffen Berger, Kerrygold, & more!
We all love sharing food and trying out new recipes from our friends and families. Through blogs, twitter, and facebook many of us have nurtured new found friendships and become part of a wonderful food blogging family. We don't often have the opportunity to eat, cook, and share with one another in real life. Instead, let us all come together in our virtual kitchens while we share some of our very best and favorite Holiday recipes.
How can YOU help us spread the word?
Starting November 10th ReTweet the following message:
Sample tweet: Join @GoodLifeEats and @BakingAddiction for a Holiday Recipe Swap. See how you can participate (and WIN) here: http://wp.me/pLmkg-Cm Pls RT
Or any other message you'd like to tweet!
We also encourage you to participate in the swap itself. Each week, starting November 17th we will host a virtual recipe swap on our blogs. Each week, a new theme, a new sponsor, and a new set of fabulous PRIZES.
That's right! I said PRIZES! With the link up system you'll be able to vote for your favorite recipe that has been submitted to the exchange. At the end of the voting period, the winner will be the participant with the most votes. Keep in mind that you will ONLY be eligible for the prize IF YOU POST IN THE LINK UP. This is not a traditional blog giveaway.
Check out the schedule below:
November 17 – Beanilla Vanilla Beans: and recipe featuring VANILLA
November 24 – Kerrygold Butter: any recipe featuring BUTTER
December 1 – Scharffen Berger Chocolate: any recipe featuring CHOCOLATE
December 8 – Scharffen Berger Chocolate: any recipe featuring CHOCOLATE
December 13 – Le Creuset: Family Favorite COMFORT FOODS
December 15 – Kerrygold Butter: any recipe featuring BUTTER
December 22 – TBA
December 29 – TBA
Additional Information
Recipe Exchange Posting and Prize Details
We hope you'll participate! To kick things off, Katie and I have each selected and made a recipe from one another's blog to share with you. I chose her delectable Pumpkin Molasses Cookies. Soft, chewy spice cookies blend perfectly with pumpkin to create one spectacular cookie. They scream autumn and are the perfect ending to any dinner. Try making an ice cream sandwich with two of these babies and some softened vanilla ice cream for a decadent weeknight treat.

Pumpkin Molasses Cookies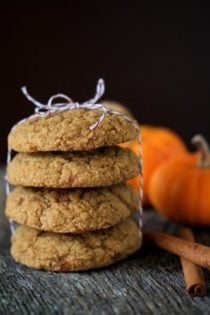 Ingredients:
2 1/3 cups flour
2 tsp baking soda
1/2 tsp salt
1 tablespoon pumpkin pie spice
1/4 tsp black pepper
8 Tbs butter, room temperature
1 cup brown sugar, packed
1/4 cup molasses
2/3 cup pumpkin puree
1 large egg
1/2 cup sugar, for rolling
Directions:
1. Whisk together the flour, baking soda, salt, pumpkin pie spice, and pepper.
2. Working with a stand mixer, preferably fitted with a paddle attachment, or a hand mixer in a large bowl, beat the butter on medium speed until smooth and creamy. Add the brown sugar, molasses, and pumpkin puree and beat for 2 minutes, scraping down the sides of the bowl as needed. Add the egg and beat for 1 minute more. Reduce the mixer speed to low and add the dry ingredients, mixing until the flour and spices disappear. If flour remains in the bottom of the bowl, mix the last of the dry ingredients by hand to avoid over beating. You will have a very soft dough.
3. Divide the dough in half and wrap each piece in plastic wrap. Freeze for at least 30 minutes, or refrigerate for at least 1 hour. The dough is sticky, so the longer time it can chill the easier it is to work with.
4. Preheat oven to 350 degrees F. Line 2 baking sheets with parchment paper.
5. Put the sugar in a small bowl. Working with one packet of dough at a time, divide it into 12 pieces, and roll each piece into a ball. Roll the balls in the sugar and use a the bottom of a glass to press down on the cookies until they are between 1/4 and 1/2 inch thick. Transfer to cookie sheets. Do not over crowd.
6. Bake the cookies one sheet at a time for 12-14 minutes, or until the top feels set to the touch. Remove baking sheets from the oven. Let cookies cool 5 minutes on the sheets before transferring them to a cooling rack.
7. Repeat with second batch of dough.
All images and text ©
Follow Jamie on Instagram. We love to see what you're baking from MBA! Be sure to tag @jamiemba and use the hashtag #mbarecipes!