Summer is just around the corner, and you know what that means – bathing suit and shorts season. I'm betting we're all suddenly a little more conscious of what we toss into our mouths. It's no secret that My Baking Addiction is full of sugary goodness, but I do try to maintain healthy eating habits. Although I could certainly stand to lose some unwanted pounds, I try to eat in moderation.
I typically eat a healthy breakfast, followed by a reasonable lunch, but my downfall is about 3:30. It's when I've finished the work day and am settling in to my evening routine of blogging, laundry and preparing dinner. It's the time of the day when not only do I get a little crabby, but I also get a seemingly insatiable craving for ridiculously sweet items like soda, Nerds and Fruit Roll-Ups. Don't judge me, I have a full on addiction to Fruit Roll-Ups, they're my vice. I love them.
If you have read My Baking Addiction for any length of time, you may be aware that I am not all that into chocolate. It's not that I don't enjoy it, it's simply not my favorite. I'm more of a fruity type of girl that has an affinity for all things sour and chewy.
Recently, I started hearing good things about dark chocolate on talk shows. Ya know, one of those days when the TV was "on", but I wasn't really watching. It piqued my interest, so I started doing more research. Did you know that studies indicate that dark chocolate can do some pretty awesome things like improve your mood, stimulate endorphin production and it's a great source for antioxidants. I can certainly use an improvement in my mood from time to time!
With all of the benefits, it certainly doesn't hurt to work a little dark chocolate into your diet or your baked goods. These homemade granola bars are full of delicious flavor and have some pretty healthy ingredients like wheat germ, cherries, almonds and of course, dark chocolate. They couldn't be easier – everything is made in one bowl…bonus! And they are the perfect 3:00 pm pick me up or little surprise snack in the kiddos' lunch.
Homemade Granola Bars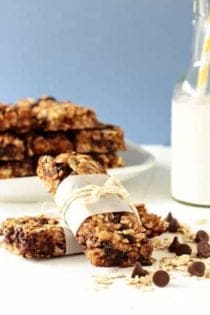 Ingredients:
2 cups rolled oats
3/4 cup packed brown sugar
1/2 cup wheat germ
3/4 teaspoon ground cinnamon
1 cup all-purpose flour
3/4 teaspoon kosher salt
1/2 cup honey
1 egg, lightly beaten
1/2 cup vegetable oil
2 teaspoons vanilla extract
3/4 cup dried sour cherries, chopped
3/4 cup dark chocolate chips
3/4 cup slivered almonds
Directions:
1. Preheat the oven to 350 degrees F. Line a 9x13 inch baking pan with parchment paper.
2. In a large bowl, mix together the oats, brown sugar, wheat germ, cinnamon, flour, and salt. Make a well in the center, and pour in the honey, egg, oil and vanilla.
3. Mix well using your hands, add in cherries, chocolate chips and almonds. Pat the mixture evenly into the prepared pan.
4. Bake for 30 to 35 minutes in the preheated oven, until the bars begin to turn golden around the edges. Cool on wire rack for about 30 minutes before cutting. Do not allow the bars to cool completely before cutting because they will crumble.
Notes:
- Store granola bars is airtight container for up to three days.
- Recipe adapted from allrecipes.
All images and text ©
Follow Jamie on Instagram. We love to see what you're baking from MBA! Be sure to tag @jamiemba and use the hashtag #mbarecipes!