I am not a huge breakfast fan, most of the time I roll out of bed with enough time to shower and get ready for work. Honestly, I would prefer an extra ten minutes of sleep over preparing and eating breakfast. This comes back to bite me in the butt when I am starving by 9:30 am and find myself snacking on Swedish Fish… although I love me some gummy goodness; this snack is obviously not the wisest choice! When I signed up for the 10 in 10 Challenge, I knew I wanted to start eating breakfasts that would keep me fueled and full until noon. I also knew that I would need quick, easy options that are also portable…meaning something I can grab, go and nosh on at my desk.
Last weekend I purchased a few containers of Greek yogurt on sale, so I thought I would whip together some homemade granola to layer with the yogurt and some fresh strawberries. If you have never tried Greek yogurt, you need to… it's thick, creamy and super high in protein which keeps you satisfied much longer than regular yogurt. The granola recipe is very easy to make and keeps for quite some time in a sealed container.
The beauty of this granola recipe is that you can add in whatever you have on hand. I used what was in my pantry, but will definitely be making this again with a different combination of dried fruit and nuts. I think this would be amazing with dried apricots, cherries and pistachios, so that is the next combo on my list! These little parfaits turned out to be delicious, filling and satisfying and definitely beat the heck out of the ones from McDonald's!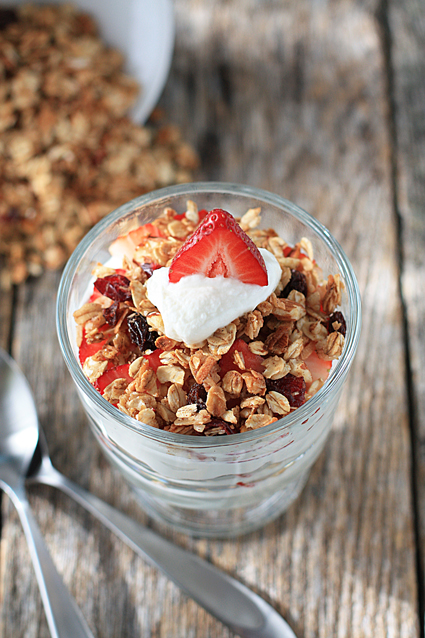 Homemade Granola
Ingredients:
4 cups old-fashioned oats
3/4 cup shredded coconut
1/4 cup packed brown sugar
2 tablespoons vegetable oil
1/4 cup honey
2 tablespoons pure maple syrup
1 teaspoon ground cinnamon
1 1/2 teaspoons vanilla extract
1/2 cup raisins
1/2 cup dried cranberries
1/2 cup chopped almonds
Directions:
1. In a large bowl, combine oats, almonds and coconut; set aside.
2. In a saucepan, combine brown sugar, oil, honey, maple syrup and cinnamon; bring to a boil. Remove from the heat and stir in vanilla.
3. Pour over oat mixture; stir to coat. Spread in a large shallow baking pan.
4. Bake at 350°F for 15 to 20 minutes, stirring occasionally. Cool.
5. Add raisins and dried cranberries. Store in an airtight container.
All images and text ©
Follow Jamie on Instagram. We love to see what you're baking from MBA! Be sure to tag @jamiemba and use the hashtag #mbarecipes!
[pinit]