The holiday season is in full swing and I'm sure that I am not the only person stressing out about gifts. One thing I think always impresses are homemade gifts. This is the first of a few homemade gift craft posts we'll be featuring on My Baking Addiction – a break from the cookies to let out your crafty side!
Our hope is to give you some ideas that are really easy, inexpensive, and creative. These first two gift ideas are fun to make and will definitely impress your friends and family!
Homemade Soy Candles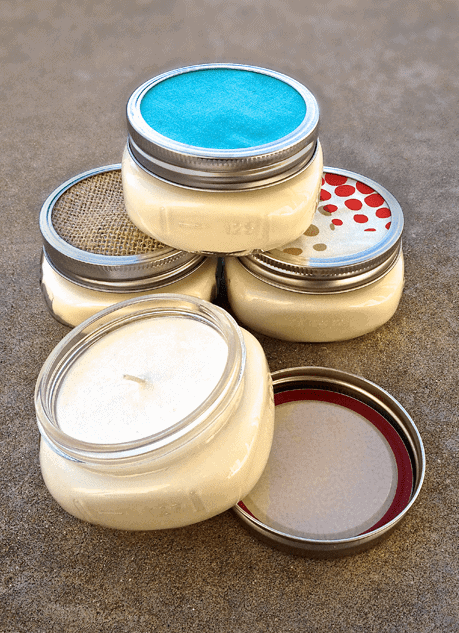 I found this DIY for soy candles from Ruffled while looking through all of the cute DIY's on Pinterest. I started with Ball 8 oz Collection Jars. I really liked the idea of short wide jars for the candlesIt would also be a great idea to go to a thrift store and get a random bunch of jars and glasses in different shapes and sizes.
I found that the soy wax melts and takes fragrance really well and sets up completely in about two hours. Soy wax is also very easy to clean up and will wash out of your clothes in case of accidental spills!
I have already developed an addiction to making these candles and purchased more flakes… everyone I know is getting candles!
For This Craft You Will Need:
Glass Jars, whatever size and shape you like
Soy wax flakes. a 2lb bag will make 5 8oz candles
Candle fragrance, feel free to mix scents
Microwave
Glass Pyrex Measuring cup or bowl
Measuring cups
Wicks
Scissors
Candle dye (optional)
Skewers, chopsticks, popsicle sticks or pens/pencils to hold the wick in place
How to Assemble:
Make sure all glasses are clean and dry
Put wicks in jars and stand them up straight with the help of skewers/popsicle sticks/pens…whatever you have handy
Measure flakes out into glass bowl
Microwave and stir about every minute until flakes are completely melted
Now you can add your fragrance oil…5-10 drops (or about an ounce) for every two cups of flakes
Pour slowly into jars, making sure the wick stays standing straight
Let cool for about two hours then cut the wick to about 1/4 inch above the top of the wax
They are finished! Decorate with ribbon, fabric, lace, twine etc…


Notes:
The fragrances I chose for the candles were Lavender Vanilla, Cinnamon Vanilla, Lime and Pink Grapefruit. These fragrance oils were all available at craft stores and there are tons of options online if you are looking for a specific scent.
Homemade Glycerin Soap

Our second homemade gift is also useful and unique – glycerin soaps! I found this DIY on the Martha Stewart website and incorporated my own ideas.
I am a vegetarian so I chose to use vegetable glycerin to make mine, but you can use any type of glycerin soap base for this project. Just make sure it is the "melt and mold" kind that comes in blocks.
These are so easy to personalize! Add herbs, spices, oats, vitamins or butters (available where you get the base), dried fruit or flowers, coffee, dyes and a variety of essential fragrance oils. You can use almost anything for the soap mold, although I suggest something bendable like plastic or silicone. (Trust me, you don't want to learn this the hard way, like I did!)
What You Will Need For This Craft:
White Vegetable Glycerin Blocks (available at craft stores or online)
Essential oils
Soap Add-ins (ground coffee beans, herbs, spices, fruit zest, dried flowers)
Vitamins or Butters (optional) such as Shea or Cocoa (these are available at craft stores that sell soap making supplies or you can get them online)
Microwave
Glass Pyrex bowl or measuring cup
Soap molds (plastic cups, tupperware, yogurt cups, ice cube trays, or soap molds in traditional shapes can be purchased)
Soap dye (optional)
How To Assemble:
Clean and dry your molds and grease them with Vaseline or vegetable cooking spray
Melt the glycerin in the microwave, stirring every 30 seconds (I also melted in cocoa butter during this process)
After completely melted, mix in your fragrance oils, spices, herbs…whatever you have chosen to add
Move quickly, the glycerin starts to set up very fast!
Pour into molds and let sit for about two hours
The soap should gently wiggle out of the molds, wipe of excess Vaseline or spray
Let them air dry for a few more hours then they are ready to wrap and gift!
Notes:
I made four kinds of soap; Lavender Vanilla (lavender and vanilla essential oils and dried lavender), Lemon (about 2 teaspoons fresh zest per bar), Espresso (about 2 teaspoons ground espresso beans per bar) and Vanilla Cinnamon (just a pinch of cinnamon per bar along with vanilla essential oil). I strongly suggest not using metal tins or cupcake trays (like I did), as the soap was VERY difficult to get out, even though the pans were greased.
We hope you enjoy these gift ideas as much as we do! If you decide to create either of these crafts, or any of the craft projects that we shared with you, please feel free to share your finished product with us on our Facebook page!
Have a craft idea you'd love to share? We'd love to mingle with you on Pinterest too!
[pinit]