[pinit]
Hi everyone! After a short break, I'm back with another easy DIY for you! There are so many DIY posts for homemade beauty products out there, and here are two of the easiest.
The lip balm and scrub are made with 100% natural ingredients, including some from your backyard. No flower's or herbs in your yard?…I bet the neighbor won't mind if you return with some lip balm or sugar scrub!
Both of these crafts would be great to make for a bridal or baby shower, or if you're just having a "girl's night"…and I'm pretty sure that some Sangria would be a perfect pairing! I'm not going to lie, champagne was an essential "ingredient" in my crafting process.
Coconut Rose Lip Balm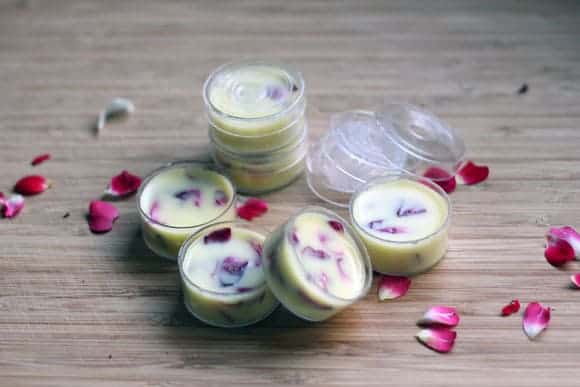 What You Will Need:
1/8 cup Coconut Oil (available at most grocery stores or health food stores)
1/4 cup Beeswax (available at craft stores)
1/8 cup Shea Butter (available at craft stores or health food stores)
1 tsp Coconut or Vanilla Extract
1/4 cup Rose Petals (fresh or dried), feel free to substitute a different flower or herb here
1 tsp Sweet Almond Oil (available at craft stores)
*This recipe makes enough for about 6 tubes or small containers
How to Assemble:
Measure all of the ingredients into a small saucepan or Pyrex container
Heat on low until everything is melted, or if using microwave heat in 30 second intervals until completely melted
Strain petals if you wish, I left them in, they look really pretty!
Pour into sanitized containers of your choice
Let cool completely (couple hours) and they're ready to use!
*Since this recipe uses beeswax (melting point is 145 degrees fahrenheit) it will harden enough to put into empty tubes.
Lavender Rosemary Sugar Scrub

What You Will Need:
1 cup Raw Cane Sugar
1 cup Sea Salt (large or fine grain)
1/2 cup Coconut Oil
2 tbsp Fresh or Dried Lavender
2 tbsp Chopped Rosemary
1 tsp Lavender Oil
1 tsp Sweet Almond Oil
How to Assemble: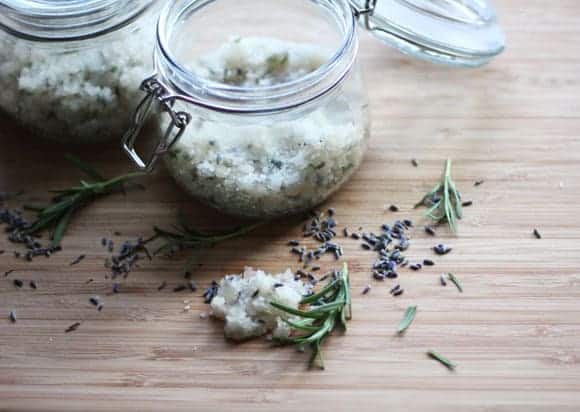 Measure all ingredients into a sanitized jar or glass container of your choice
Add chopped rosemary and lavender
Mix together, and you're done! How easy was that?
*This recipe is really versatile, add whatever herbs, spices, flowers, zests, and essential oil combinations you prefer!
We hope you enjoy these homemade beauty products as much as we do. If you decide to create either of these crafts, or any of the craft projects that we share with you, please feel free to share your finished product with us on our Facebook page!
Have a craft idea you'd love to share? We'd love to mingle with you on Pinterest too!