Sausage Pizza with Caramelized Onions and Goat Cheese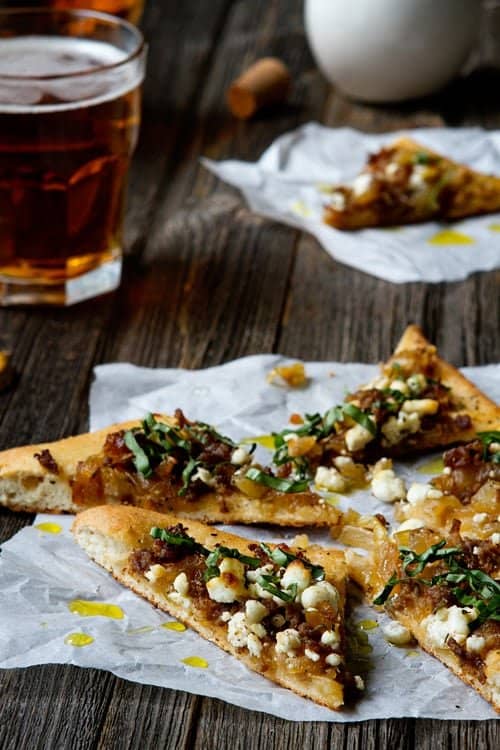 Homemade pizza with sausage, caramelized onions, crumbled goat cheese and fresh basil. You'll never get delivery again!
This is a sponsored post on behalf of Fleischmann's Yeast. All opinions are my own.
Last month, I talked about making pizza for our holiday get-togethers. Pizza is kind of a no-brainer for big events like holiday parties, birthday celebrations and game day.
Everyone loves it, it's not all that hard to make, and it's super easy to customize. But it's also great for cold quiet nights in. Nights when all you want to do is cozy up on the couch with a roaring fire and good book.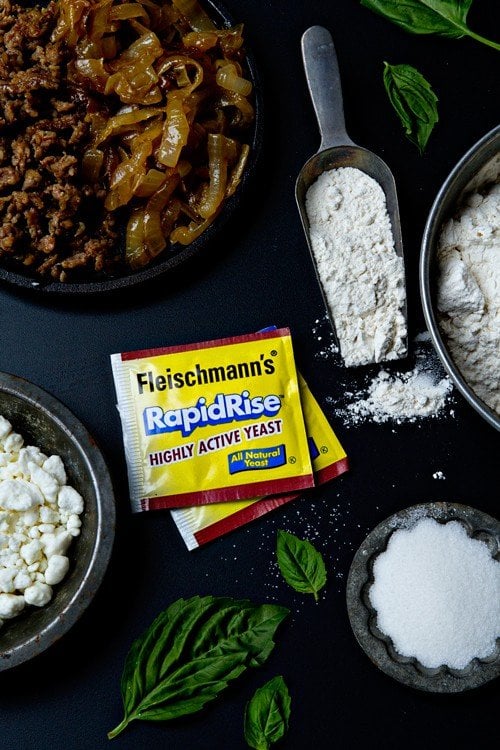 Making your own pizza, whether it's for a big crowd or just two, can be so much fun! Who needs pre-sliced pepperoni and mushrooms from a can when you can go all out, with crazy good, fresh toppings that are packed full of flavor?
While Eric might top his with plain Jane stuff like pepperoni and extra cheese, I concluded that my personal pizza needed to be extravagant, restaurant-quality good. While it doesn't take a lot of effort to make your own pizza dough, it also doesn't take a lot of effort to turn it from something plain Jane to something gourmet.
By adding sausage, caramelized onions, crumbled goat cheese, and bright fresh basil, I feel I've created pizza perfection, you guys. Every bite is SO stinkin' good. Last week, we made a Homemade Stuffed Crust Pizza recipe from Fleischmann's®. Using string cheese, it couldn't be easier to make your own!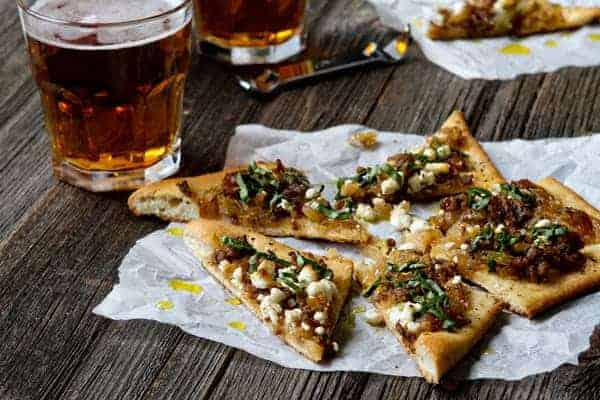 I used Fleischmann's® RapidRise™ Yeast for this Sausage Pizza with Caramelized Onions and Goat Cheese. Did you know Fleischmann's® makes a special Pizza Crust Yeast that's formulated to make awesome pizza dough? And by awesome, I mean it's specially formulated to make it easy to roll or press out dough with no snapback, and no rise time needed. It's even gluten free, so you could use it in gluten free pizza doughs too. How awesome is that?
Who knew making homemade pizza could be so easy? I'm pretty sure once you've made your own, you won't be ordering out any time soon.
What are your favorite pizza toppings?
Homemade Pizza with Sausage, Caramelized Onions and Goat Cheese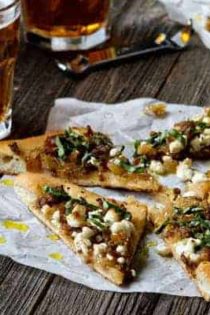 Ingredients:
For the Crust

1-3/4 to 2-1/4 cups all-purpose flour

1 envelope Fleischmann's® Pizza Crust ™ Yeast

OR 1 envelope Fleischmann's® RapidRise™ Yeast

1 1/2 teaspoons sugar

3/4 teaspoon salt

2/3 cup very warm water (120° to 130°F)*

3 tablespoons olive oil
For the Toppings

olive oil

1 cup caramelized onions (see note below)

8 ounces Italian sausage, cooked, crumbled, and drained

8 ounces crumbled goat cheese

6-8 fresh basil leaves, torn or chopped
Directions:
1. Preheat oven to 425°F.
2. Combine 1 cup flour, undissolved yeast, sugar and salt in a large bowl. Add very warm water and oil; mix until well blended, about 1 minute.
3. Gradually add enough remaining flour to make a soft dough. Dough should form a ball and will be slightly sticky. Knead on a floured surface, adding additional flour if necessary, until smooth and elastic, about 4 minutes. Cover; let rest on floured surface 10 minutes. (If using Pizza Crust Yeast, omit 10-minute rest.)
4. Pat dough with floured hands to fill greased pizza pan or baking sheet. OR roll dough on a floured counter to 12-inch circle; place in greased pizza pan or baking sheet.
5. Drizzle about 2 -3 tablespoons olive oil over the crust. Top with caramelized onions, cooked sausage and goat cheese.
6. Bake on lowest oven rack for 15 to 18 minutes, until crust is browned. Before serving, cut into slices and top with a drizzle of olive oil and fresh basil.
Notes:
If you don't have a thermometer, water should feel very warm to the touch.
To knead the dough, add just enough flour to the dough and your hands to keep the dough from sticking. Flatten dough and fold it toward you.Using the heels of your hands, push the dough away with a rolling motion. Rotate dough a quarter turn and repeat the "fold, push and turn" steps. Keep kneading dough until it is smooth and elastic. Use a little more flour if dough becomes too sticky, always working the flour into the ball of dough.
For information and direction on caramelizing onions, check out How to Caramelize Onions on Simply Recipes.
Follow Jamie on Instagram. We love to see what you're baking from MBA! Be sure to tag @jamiemba and use the hashtag #mbarecipes!
This is a sponsored post on behalf of Fleischmann's Yeast. All opinions are my own. Thank you for supporting brands like Fleischmann's which continue to make posts like this possible on My Baking Addiction.
This post may contain affiliate links. We are a participant in the Amazon Services LLC Associates Program, an affiliate advertising program designed to provide a means for us to earn fees by linking to Amazon.com and affiliated sites.