Lest we forget, Valentine's day is finally here this week! There are so many great crafts out there that I had to return with a few more ideas for you to fit in before the big day.
If you have nieces, nephews, grandchildren, or kids of school age in your life, I'm sure that you know all about those boxes of cartoon Valentine cards at the grocery store. Pretty boring, and all the same. You go through the class list, fill 'em out, tape on a piece of candy and you're done… right? After the candy is devoured, the cards usually go directly in the trash after school. Such a waste.
Here are a couple ideas that might take a little longer to make, but they use supplies you most likely already have. And they have the added bonus of being much more imaginative and fun. It's also a great way to teach your children about recycling!
Melted Crayon Hearts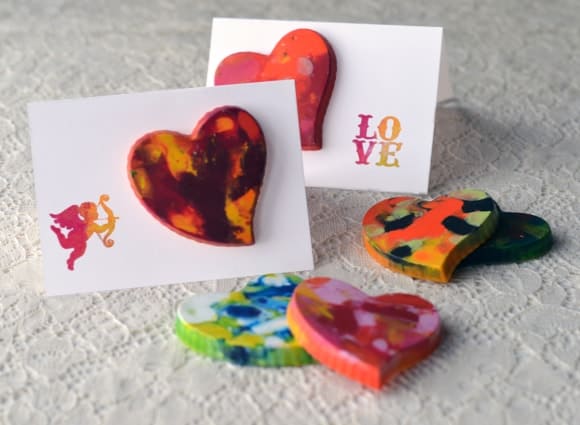 I found the idea for these hearts on Indulgy.com, but I didn't see an actual blog post for them. These are really easy to make and the finished product is absolutely beautiful! The different colors of wax melt and swirl together like a watercolor painting.
What You Will Need:
Crayons…Use up your broken ones!
Cupcake or Muffin pan. I used silicone heart molds (re-used the ones from the stained glass post). They were $3 at Hobby Lobby.
Knife
Cutting Board
Cardstock
Stamps or Markers. If you don't have a stamp make one out of a POTATO!!!

Tape
How to Assemble:
Remove paper wrappers from crayons
Divide into colors if you want different colored hearts
Chop into small pieces
Fill molds, more crayons will make thicker hearts. If you are using a metal pan it might need greased with vegetable oil.
Melt in oven or toaster oven at 250 degrees for 10-15 minutes
Let cool and pop out of molds
Tape to card and decorate!
Origami Boxes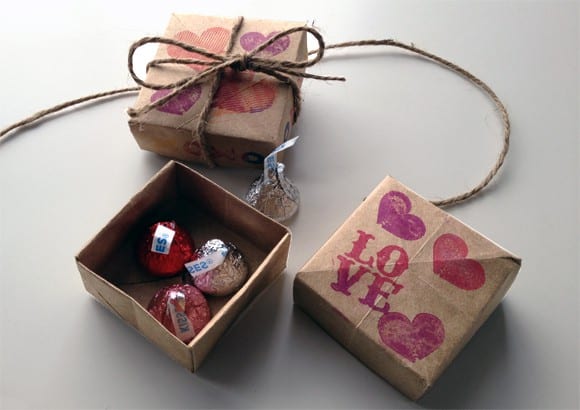 When I saw the post for these boxes on Whatever Dee-Dee Wants I thought origami might be a little too difficult and time consuming for this girl, but once you figure it out the boxes are actually really simple to make!
What You Will Need:
Brown Grocery Bags…you could also use wrapping paper.
Scissors
Ruler
Stamps, Markers or, Stickers
Twine or Ribbon
How to Assemble:
Cut squares of paper 6-8 inches in diameter
Follow this easy step-by-step video from Lorajean's Magazine
Decorate boxes
Fill with candy!
TIe up with a ribbon
Here are a few other ideas for homemade Valentines:
http://www.marthastewart.com/273591/felt-fortune-cookies?backto=true&backtourl=/photogallery/valentines-day-decor
http://www.dandee-designs.com/2010/02/friendship-bracelet-valentines.html
http://sweetmuffinsuite.com/2012/02/day-4-free-kids-valentine-card-printable/
http://www.ivillage.com/kids-valentines-day-crafts/6-b-142009#414421
We hope you enjoy these craft ideas as much as we do. Back to baking and Valentines making for all of us! If you decide to create either of these crafts, or any of the craft projects that we share with you, please feel free to share your finished product with us on our Facebook page!
Have a craft idea you'd love to share? We'd love to mingle with you on Pinterest too!